Virtual Field Trip
5. A Planetarium

Stellarium Web lets kids explore the stars, find planets, watch solar eclipses, and more. Enter your place to view the constellations found in the night skies around the globe.
U.S. Geological Survey maintains monitoring of volcanic activity in the United States.
Its interactive map
Click on any volcano to learn more.
5. A Planetarium
">Virtual Field Trips offered by The Nature Conservancy that let students explore a coastline rainforest in a canoe or discover the secrets to coral reefs in Dominican Republic. Each video averages 45 minutes.
Now, virtual tourists can access the most popular and established National Park.
Interactive maps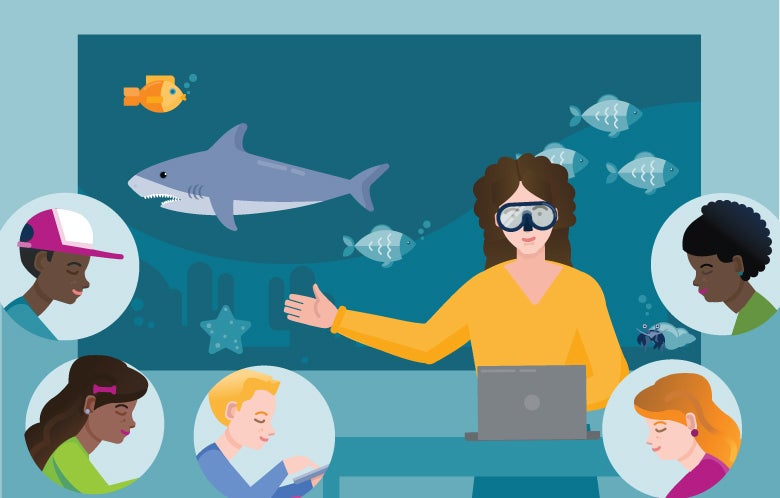 Upcoming Live Virtual Field Trips

Home Depot Premiere September 23, at 12:01 ET. Empower students to have a greater understanding of sustainability and conservation. Explore the options available for them to help build self-reliance as well as a better planet.
Primetime: September 28th, 1 PM ET. Help middle schoolers decode and hack their lives to create a better planet. Learn the basics of Cybersecurity and Artificial Intelligence. You can read more.
The Future U.: Testing the Limits Virtual Flight Trip Boeing Premiere: September 30, 2013, 1PM ET. Come meet the engineers, see their labs and learn about the safety and quality of Boeing's programs.
Virtual Field Trip with Cooperative Minds Premiere: October 7th, 1pm EST. Learn about the innovative ways cooperative minds (or cooperative) businesses are connecting communities and inspiring daily innovation.
Moving toMarket Premiere: October 12, 2013 at 12:01 EST Keys for Connect
Find Your Happiness in Action: Discover Your Happiness Virtual Field Trip. Activate peer learning and introduce students to others who bring the Six Sustainable Happiness Skills to life – compassion, mindfulness, kindness, humanity, purpose, generosity, and gratitude.
The CVS Health Foundation presents Be Vape Free. This Virtual Learning Opportunity will provide the facts about the current vaping crisis. You will learn powerful insight from several teenage vapers who shared their experiences in successfully quitting e-cigarettes.
No cost virtual field trip

Africam- See the African bush in action.
All About Birds- View live webcams of birds around the US and worldwide.
Anne Frank House – Take a 360-degree Tour of Anne Frank's Amsterdam Home.
Beyond the Battle Field- See behind the scenes footage of the Museum of the American Revolution on a video-based field trip.
Boeing Aerospace Tour — Join Boeing as it takes you on a virtual fieldtrip to the Johnson Space Center.
The British Museum Online – See the gallery galleries at the museum.
Buckingham Palace Virtual Tour – Visit the famed London palace.
42 Virtual Fieldtrips For Children To Help Them Learn About The World

You don't have to leave the sofa for your kids to travel between Ellis Island and Mars.
Parents are now preparing to receive another round of stay at home orders, as COVID-19 rates continue to rise. Parents might also plan to spend the winter home even though local government officials aren't encouraging it.
Online tours allow your children to still have access to the world outside even though they may not be physically present at home. Same way that school is now digital and you can live-stream extra-curricular classes from anywhere, online homeschooling also allows you to learn at your own pace.
These virtual field trips for kids will have them gazing at world-class art, learning about history, discovering science, and even checking out what it's like in outer space. Whatever your interest, whether it's science or history, they can all take a virtual "trip".
Of course, these are still screen experiences. For the greatest enjoyment of your virtual field trip, make sure to encourage children to use the materials even after the device has been turned off. Based on age, your kids could draw or write about what they remembered or their favorite part. To keep track of your virtual adventurer, you might even want to create a binder.
Farms

This farm tour will allow you to observe how food is produced, harvested and finally arrives at your table.
American Egg Board : The Egg Board has virtual tours of different egg farms, and many of them let you choose different videos for elementary and middle school students.
Bonnie Plants is a Virtual Field Trip to a Grower – Home Depot invites kids on an 8-part trip that will take them around the world to meet this grower. The goal: to encourage kids to start gardening.
Bright Farms : A farm grower in Irvington, NY shows kids how food goes from the field (in this case, an indoor grower) to the grocery store. The quiz is right at the end.
Farm Food 360: Children can view 11 types of farms and food plants including egg processing and dairy cow farms.
Even More Fun

These tours allow kids to visit places they might not have access to in normal time, including a candy factory.
Discovery Education – The site features virtual field trips that kids can take, from designing cars for the future and a laboratory that studies nuclear energy to engineering plant that makes them.
Johnson Space Center: Boeing guides the Houston facility tour, which covers the history of and the future in aerospace innovation.
M&Ms Factory Tour : The Food Network hosts a virtual tour of the M&Ms factory and shows how the delicious candy gets made.
Outer Space Tours. Kids can explore the surface of Mars using Curiosity's robotic vehicle. NASA also does virtual tours of the Moon , along with the International Space Station Recycling Simplified : Take kids on a tour of a modern-day recycling center or landfill, and teach them about environmental sustainability.
Son Doong is National Geographic's 360-degree virtual tour of Vietnam's biggest cave. It can be found in Quang Binh Province. Water can be heard running on the rocks.
This content has been imported from embedname. This content may also be available in another format.
25 Virtual Field Trips To Your Classroom

Virtual field trips allow us to take our students where the bus can't. This list includes 25 field trip ideas and 10 activities for you to enjoy while you're on one.
You can imagine your class visiting the Great Pyramid of Giza, the International Space Station or engaging in a conversation about a favorite author. You can have these kinds of experiences by taking virtual field trips.
Our students can now go on virtual field trips to explore new places.
They are fun, very engaging and best of all most virtual field trips are absolutely FREE! Many exciting connections are available and there are many places you could go.
What are some of the most popular places for a virtual fieldtrip? Are there any activities you can offer to your students that will help take their knowledge further?
You will find 25 virtual field trips as well as 10 ideas for extension activities.
Find A Virtual Field Trip Or Activity For Your Class!

Get the book on this subject!
Take your virtual fieldtrips to the next level! Tech Like a Pirate shares seven keys to making learning tech easy! Get practical suggestions, download templates, step by-step tutorials and many more. Your students will be engaged and begging for more!
Amazon PIRATE TECH:
What makes a great virtual field trip?

1. An online zoo (Behind-the Scenes) is a great virtual field trip for children. While virtual trips may not let students see otters float, elephants play, and lions strut up close, a digital tour allows for more intimate behind-the-scenes access.5 days ago
Do you want to take a virtual field trip?

Have an idea for the field trip.Make sure it fits with what you are teaching.Determine what you want the students to learn from the field trip.Take the field trip yourself to be sure your technology will support the trip.More items…
Some fun virtual field trip ideas

Space slime
The Zoo.
The Aquarium. The Farm.
A Planetarium.
Volcanoes
Nature Lab.
Yellowstone National Park.
What is the cost of virtual field trips?

Any virtual field trip is free. These virtual field trips are free to us. We can only purchase items for our kids while we're gone. It's true that you need to plan for lunches as well as getting on buses. You will be able to do it in a fraction of the time. Mar 25, 2016
.Virtual Field Trip