Stainless Steel Cookware Review
What exactly is Stainless Steel, and How Does It Work?
Let's start with the definition. Stainless steel (also known as inox or French inoxydable) is a type of steel that contains high amounts of iron, carbon, and manganese. It has a minimum 10.5% chromium and maximum 1.2% carbon content. (from Wikipedia) Stainless steel has the distinction of being resistant to corrosion, and even rust. This is unlike iron-only cookware (e.g.. cast iron). Both the chromium and nickel help to retard corrosion–so it follows that the higher the percentage of chromium and/or nickel, the more corrosion resistant the steel will be.
It is possible to substitute nickel for other elements (as shown in 200 Series Stainless), but in order be classified stainless the steel must have at minimum 10.5% chromium.
There are many different kinds of stainless steel available for thousands of applications in manufacturing, from surgical tools and kitchen sinks to medical instruments. There are three types of stainless that is most frequently used for the manufacture of clad stainless cookware. These are:
200 Series: 200 series stainless uses manganese as an anti-corrosion agent instead of nickel. Manganese costs less and has a lower corrosion resistance than nickel. The 200-Series stainless steel is less expensive and more likely to rust. It is usually seen only in inexpensive clad stainless cookware, or stainless steel cookware advertised as "nickel-free." The most commonly used form of stainless worldwide is the 300 Series. You can also identify it by the chromium/nickel content: 18/10 or 18/8, which means that it contains 18% chromium with either 10% nor 8% nickel. You may also see it referred to as "304" stainless and "316" stainless. The term 304 refers to 18/10 stainless or 18/8 stainless. Both make great pots and pans.
Molybdenum is added to 316 stainless steel, which is the marine grade from 300 Series stainless. This makes it more durable than 304 stainless. A 316 stainless steel is available for cooking, which contains titanium. It's called 316Ti.
All 300 Series stainless are durable and non-reactive. The highest quality stainless cookware uses 300 Series steel as the surface for its cooking. There are many different grades of 300 Series stainless available. The quality of cookware will impact its price as well as durability.
400 Series stainless: 400 Series is F erritic stainless, which means it is magnetic. It's also known as 18/0, for its chromium/nickel composition (i.e., it contains no nickel). For induction compatibility, the 400 Series stainless is often used as an exterior coating on clad stainless cookware.
About Cladding In Stainless Steel Cookware: What You Need To Know Before Buying
Cladding is the key to why stainless steel cookware is so great: the durable-but-poorly-heating stainless exterior protects the soft-but-excellent-heating aluminum interior.
John Ulam (a metallurgist) was the first to invent the process of cladding and also created All-Clad cookingware.
Cladding comes as many options and in many qualities. There are several things you should know about cladding before making your purchase.
Why Stainless Steel Cookware Sets Are The Best
These stainless steel sets of cookware are excellent. They come in a variety of shapes, sizes, and designs that can meet any need you may have. The best part about stainless steel is its durability. It will not rust no matter how many times it's used. It resists corrosion and scratches so that your pans look new for many years. There are different types of stainless-steel cookware available, including stainless-steel saucepans and frying pans.
Look for high-quality stainless-steel cookware that is durable and will last. Stainless is resistant to scratches which means your pans won't get damaged while washing them off or cooking on them! Copper Chef's amazing copper pots and pans is a great example. These brands also offer comprehensive collections, which makes it simple for those who don't want to get into the finer details of choosing their products.
What to Look For in Stainless Steel Cookware
A great investment is stainless steel cookware that lasts for years. Although it can be hard to find cookware that is made of high-quality materials, and lasts a lifetime, the investment in the right set will pay off. They should be easy to use, so make sure you take time to examine how light and ergonomic the utensils are before purchasing.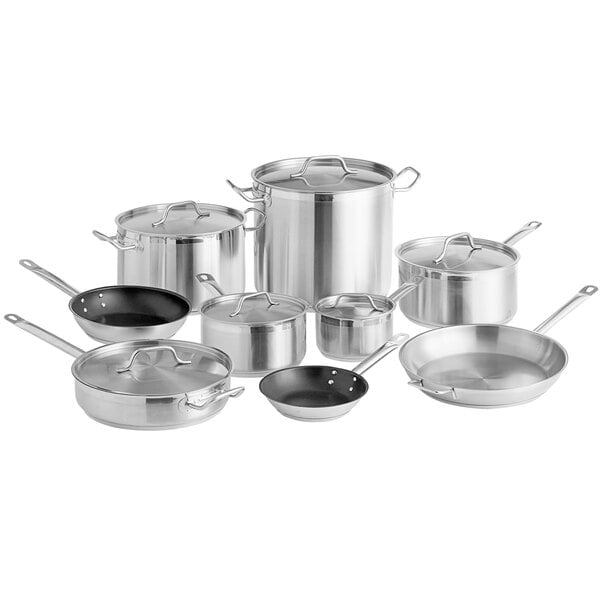 Stainless Steel Grade
There are many stainless steel cookware that is woven together. The most common grade, 18/10, is used for quality kitchen supplies. This first part tells you how many nickel and chrome are in the -18/10. 18% is resistant to corrosion, while 10% nickel keeps its shine without reacting with food such as fruits juices or baking powder.
Premium Stainless Advantage
Premium stainlesssteel offers excellent performance in cooking. Furthermore, aluminum encapsulated bases heat quickly and evenly, eliminating hot areas.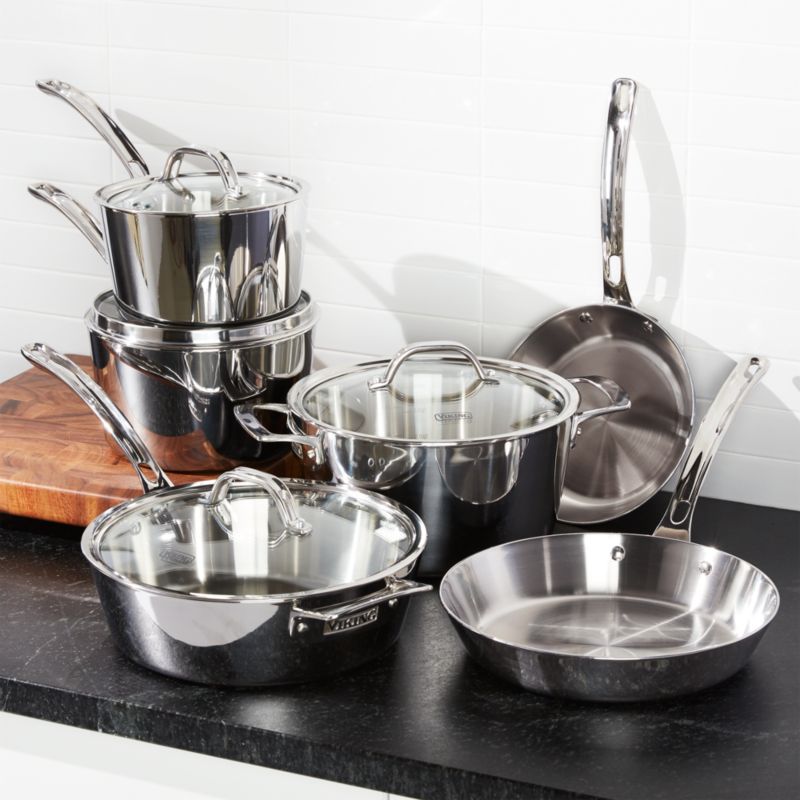 Reliable Cookware For Every Meal
Calphalon Classic Stainless Steel Cookware will save you time while cooking and provide versatility. Easy measuring tools, straining covers and pour spoons make it easy to cook. Stay-cool stainless steel handles with long handles are heat resistant and heat-resistant when used on the stovetop. An aluminum core provides heat control and heat control. Calphalon Classic has the right cookware that will make any meal easy.
Calphalon Classic Stainless Steel Cookware – Why Choose Calphalon Classic Stainless Steel Cookware
As a metal layer or ply in cookware, it adds strength and heat distribution. This ensures that your food doesn't get hot or cold. Better performance comes from more layers.
Calphalon Classic Stainless Steel Cookware boasts a robust, single-layer metal design with an impactbonded base. The base distributes heat efficiently and evenly.
Calphalon Classic Stainless Steel Cookware – Why Choose Calphalon Classic Stainless Steel Cookware
On its own, stainless steel is not a great heat conductor. Most stainless steel cookware that is best for heat retention and absorption uses an aluminum core.
Calphalon Classic Stainless Steel Cookware features an impact-bonded stainless steel base with an aluminum core. The aluminum core heats quickly, retains heat well, and distributes heat evenly to the cooking surface for consistent and professional results.
Calphalon Classic Stainless Steel Cookware – Why Calphalon Classic Stainless Steel Cookware
Calphalon Stainless Steel Cookware's magnetic stainless steel construction makes it ideal for use on all stovetops.
Layers
Core
Heat Control
It is possible to induct
Calphalon Classic Stainless Steel 10-Piece Collection
The set includes:
8″ fry pan 10″ fry pan 1.5-qt. Sauce pan with cover 2.5 qt. Cover sauce pan 3-qt Cover 6-qt. stock pot with cover
Guide to Cookware
Now is the perfect time for holiday cooking.
There are so many options when it comes to cookware prices, styles and materials. You don't always have to buy top-quality cookware. We were able to find affordable cookware that works just as well in our tests as expensive ones.
Cookware Confidence
Consumer Reports tests and buys stainless and nonstick cookware, Dutch ovens and many frying pans including cast iron, nonstick and carbon steel. Undecided on which brand or varieties you would like? Be sure to read the following before you begin shopping.
Decide between open and set stock. Make a list of your pots, pans, and other items to see what can be repaired or replaced. The open stock category includes both individual and collective pans. Open stock allows you to easily swap out any damaged pans.
You should consider your style and choose the right cookware pieces if you're looking to buy a set of new cooking tools.
Your cooking habits will have an impact on the pots you choose. Cast-iron skillets are great for browning meat. Cast-iron skillets can be used to make scrambled eggs, pancakes and other delicate dishes such as fish. Stainless is great for any type of food that requires browning or searing. The Best Frying Pans to Change the Way You Cook is a deep dive.
Though a good stock pot is great for soups or boiling pasta, if you like to cook stews or sauces low and slow, consider a Dutch oven. Dutch ovens are versatile, able to cook all kinds of bread, from browning, boiling, baking, and broiling, as well as moving easily from stovetop to table. The versatile Dutch oven is capable of cooking almost any type of food. Take a look at Why Every Home Cook needs a Dutch Oven. Then, match your Dutch oven to your cooking surface. For smooth-top ranges, flat-bottomed cookware that doesn't warp is essential. Although gas ranges tend to be more forgiving than those with gas burners, they still require good contact between the pan's bottom and the burners. Cookware with magnetic properties is a must for an induction cooktop. When you go shopping, bring a magnetic device. If your magnet sticks to the bottom of the pan, you can use it with either an induction range/cooktop. Our ratings also indicate which pans work with an induction range or cooktop.
What Are the Advantages and Drawbacks to Stainless Steel Cookware
Poor Heat Distribution, unless having bonded conductor(s). Non-conductive cookware has a poor heat distribution. Multi-ply cookware, on the other hand, is highly efficient. Conductivity is a problem with stainless steel. The material can conduct heat unevenly and slowly, so it needs to be conductive in order for the product to perform better.
What Type of Stainless Steel Cookware Do You Choose?
Calphalon Premier Stainless Steel 11 Piece Set is the winner. All-Clad d5 Stainless Steel 5 Piece Set takes second place.
Can Stainless Steel Cookware be Healthy?
A combination of chromium, nickel, and other metals. Stainless steel is an alloy. Small amounts of Chromium are required by the body. It usually gets this amount from eating a regular, healthy diet. … Nov 13, 2019
Which is best for cooking?
While stainless steel pans may not be as forgiving as nonstick pans, they can often produce superior results, and are prized throughout the cooking world for good reason. Stainless steel's excellent heat retention and durability make it an excellent choice in the kitchen.Aug 30, 2019.Stainless Steel Cookware Review