Dagne Dover Legend Tote Review
Dagne Dover Legend Tote Review

Dagne Dover Legend is a bag that's structured. It will stand strong, no matter how full or empty it is. It was my favorite work bag because I could put my laptop, lunch, change of clothes, water, and my work files inside. The bag was crisp enough that I could take it to client meetings. It could also be used to sit beside me in meetings where I can easily access a notebook, file or battery without having to search around. My choice for conferences is the Legend Tote. You can place it anywhere you like: on the table, on a chair or on the ground. To make it easy from running to the seminar, to networking or cocktails, I can lift it up over my shoulders and carry it around in my hands. It makes a bold statement. Take the Legend bag, in particular one of its signature Dagne Blue colors to conferences or to restaurants and strangers will be asking you about it.
Check out my review of Dagne Dover Legend Tote. This bag holds everything I need. It is lighter and more comfortable to carry, even with a jacket, because the straps are longer. Quick glance, you can't tell the difference, you can only tell if you had the previous bag.
This is a review of the Legend Tote updated. I was pleasantly surprised at how much it can hold. I loved it as my work bag, but I drove to a parking lot and only walked about a block to the office. I'd walk to client meetings, but only a couple blocks, and I usually left extra stuff (lunch, water, etc.) at my desk. My laptop, purse, and other essentials would suffice for me to carry around at a conference. So, as I acquired documents and swag I would have enough room, and my bag wouldn't be too heavy.
I've taken the Legend Tote on flights. However, it won't fit under an airplane seat. It may be necessary to remove some items from the bag if it is stiffly packed and sealed tightly. It looks good even though it has been flying for several hours. The bag can easily slide out of your middle seat to locate your lip balm or headphones.
Dagne Dover Legend tees are not made out of leather. They're made with a coat fabric which gives off the feel and look of Saffiano. It is easy to spot clean and doesn't rub away when scuffed. I have Dagne bags that are several years old and still look like new. I do recommend when not using it for a long while to stuff it to keep its shape; if it bends or gets squished in a closet, it's hard to get out the folds and it won't stand as nicely when not full. Essentially, take care of your Dagne bag and it will give you years and years of stylish hard work.
Dagne Dover Allyn Tote Review

Dagne Dover Allyn is smaller and softer than the previous model. The bag has a well-constructed base. However, the walls and handles are more flexible than most bags. It can also fold up if it's not full. The interior organization is what makes this bag stand out among other totes. There are pockets, pouches and compartments in the Allyn Tote that allow you to keep everything organized. This is a preferred work bag when working at a coworking space or when I want a bag to take on a business trip as when it's not full of laptops and files it can pass as an everyday handbag. I then don't have to pack a separate purse for networking events or casual dinners, and I can leave the desk and go to lunch and not look like I brought the whole office with me.
Review: The Dagne Dover Allyn Tote. What I put in the bag. The bag can be used for both work and personal use. I love leather. It is high quality and luxurious.
Some people have let me now that they prefer the Allyn Dagne Dover tee over the Legend. They use public transportation and the Allyn is lighter and takes up less space than the Legend.
The Allyn Tote does not zip closed on top, but has a strong magnet to hold it together. You can fill the bag up until it's full, but then it will not zip shut. One reader asked how the bag works with a 1" binder in it; I was able to put my laptop, a water bottle, paper planner, purse essentials and a 1" binder in the bag without it being misshapen. While it could be carried over the shoulder without difficulty, the bag didn't have a clasp to close at its top. However, when I put basics in it (laptop and cord, purse essentials, a journal or paper planner, a bottle of water and maybe a couple other small things( it clasps shut and the magnet really gets the job done. If you desire a bag that can completely zip closed, you may wish to instead go with the Legend Tote.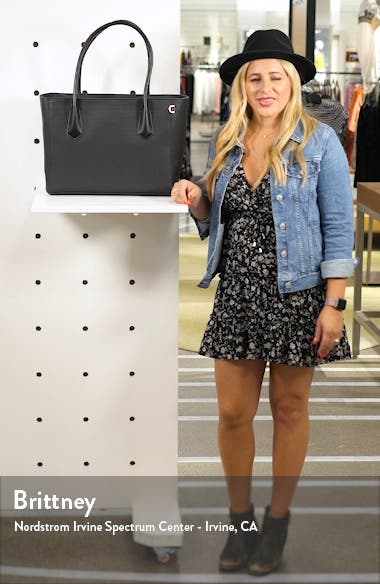 Pages

Home Past Collections Posts and Reviews 20% Off YouTube Dagne Dover15′ Tote Review.
Let me start by giving you some information on my discontinued 15 inch Tote (drawn from my "Tote Size Guide")
The 15″ Tote was Dagne Dover's staple piece along with the original clutch wallet until the introduction of the Mini Tote in Spring 2014. It is named not necessarily for its overall width (approximately 18.5″ inches at the widest point), but for the maximum laptop size the interior laptop sleeve can accommodate (15″). The 13″ Tote has handles that can be folded down while the 15′ Tote handles cannot. The Tote was modified early in its development to reduce weight and correct issues related to the handles. Legend Tote was released in 2017. It is slightly bigger than any previous version.
15″ Tote Specs: 15″ L (at smallest point) x 12″ H x 7″ W, 8″ handle drop, 3.4lb weight
Legend Tote Specs: 14 3/4 " L x 11 1/2 " H x 7″ W, 9″ handle drop, 2.9lb weight
Dagne dover's leather totes are more my style than their canvas ones, however I find myself using the 15″ Tote quite often this year. The bag is perfect for a trip to the grandparents, as it can be used both on the road and at night. Although a Large Allyn or Landon could also work for this purpose, the Landons don't have as much laptop padding (I take my 15″ work laptop with me), and I've found the Large Allyn is too large and has a tendency to slouch/tip over.
Graphed with XS. Landon, S Hunter Accordion Travel Wallet and S/L Scout Pouches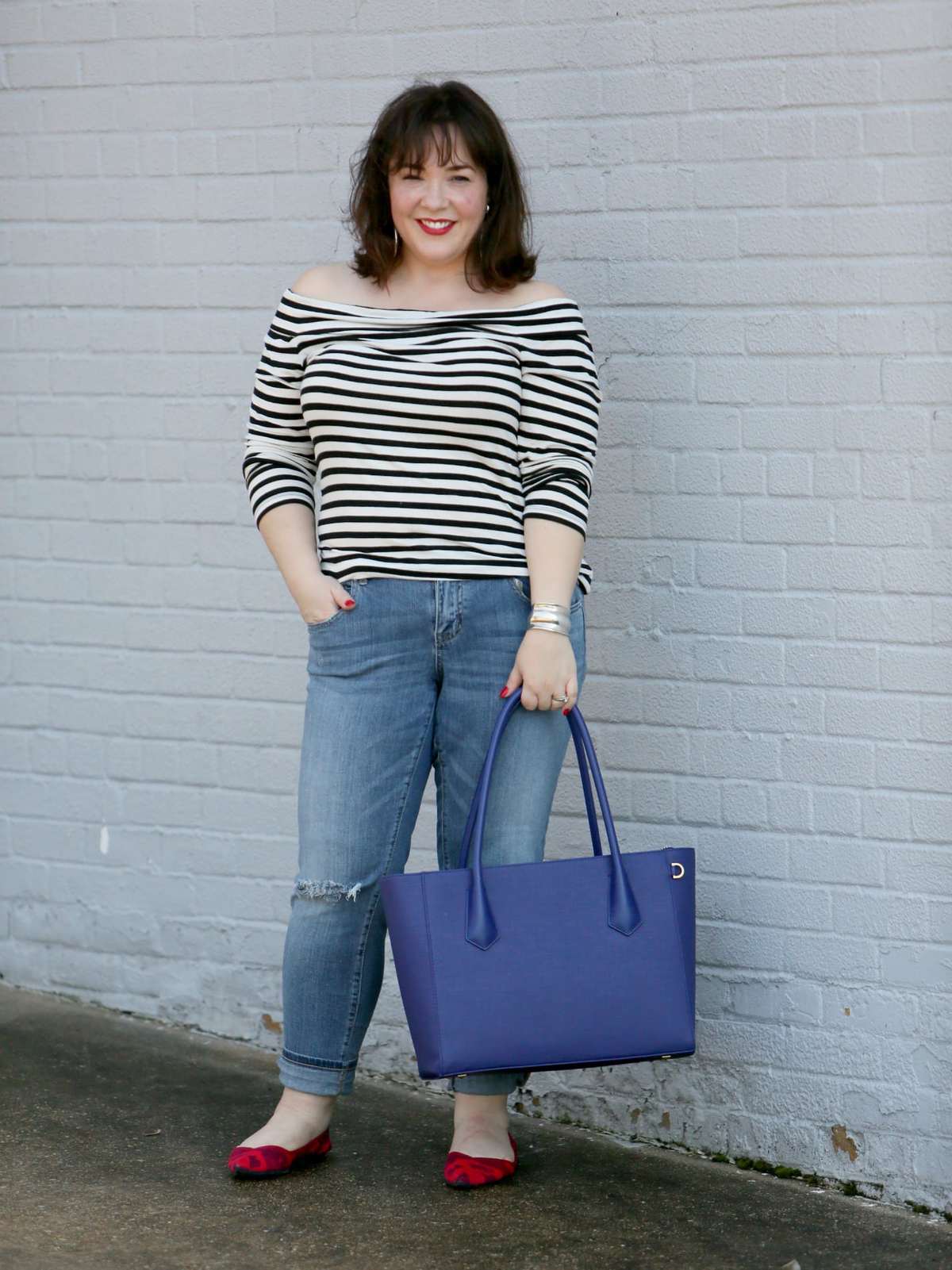 Few Things Before We Start

Dagne Dover bags no longer come in sizes 15" and 13". They now go by the new name "Classic", 'Legend", 'Midi", 'Petite", and they have undergone a little rebranding.
Update: The midi seems to be gone.
The bag comes in both old and new versions.
This is the difference between all bags:
Legacy – The Legend is close to the original 15." bag, but now it is 14." slimmer.
Classic – The closest model to the original 13 inch tote is this one, however it is smaller. I do have the 15 inch
You're lucky to have the Midi, which is an updated version of both the smaller and larger Petite. It's been reviewed here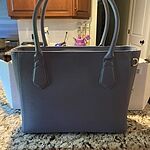 2. I paid for 2 out of the 5 bags

Out of the bags I am reviewing today, I bought these bags with my own money Dagne Dover 15" Tote – Stingray Embossed Black Oynx Leather (Original 15") – closest to the Legend Tote Dagne Dover 13" Tote – Cork (Original 13") – closest to the Classic Tote The rest were generously given to me as part of this review by Dagne Dover, although I had to pay for the shipping costs since I live in Canada & they don't ship internationally, so it wasn't completely free.
Dagne Dover Midi Tote – Oynx Black Coated Canvas
Dagne Dover Charlie Tote – Bone Leather Dagne Dover Lola Pouch
Bone Leather Promise. Pinky swear.
3. (I actually really want Dagne Dover Simone Satchel. This looks like an amazing crossbody. Just in the above photo, I used other bags for comparisons. The size of the Pliage is roughly the same.
Also, I have items to fit laptop sizes as shown in the photos:
2 A4 Letter-sized Red & Blue Semikolon folders
Dagne Donver: The Workwear Hall Of Fame

This bag will be included in the 2021 Nordstrom Half Yearly Sale, at as low $149.
The sturdy and durable coated canvas bags are a favorite. There are many vibrant, fun colors available such as this "Palm" and their "Dagne", which is a classic cobalt color. But they also offer neutrals.
A mini Dagne Tover Tote Review: Although it is a strong tote it can also feel stiff if you are used to using nylon.
However, you can still get the Signature Legend bag (pictured right) for $265. It is big enough to carry your laptop and sneakers. The classic tote comes in a smaller version at $245.
Ann's Dagne Dover review of the same tote at CorporetteMoms!|CorporetteMoms reviews the Ann Dagne Dover tote.|CorporetteMoms has a review by Ann Dagne Dover of the same bag!|CorporetteMoms review of Ann's Dagne Dover same tote!|CorporetteMoms' Ann Dagne Dover review for the same Tote.} Signature Legend Coated Canvas Tote Dagne Dover Website now includes card cases. Nice.) Corporette(r), which may be an affiliate link, might receive commissions for any purchases through the links within this post. More information is available here. Your support is greatly appreciated!
2018 Update: This bag has been added to the Workwear Hall of Fame. We love it so much that we are adding it to the Hall of Fame.
Dagne Dover's website is the most comprehensive, with many options. Nordstrom, Revolve, and occasionaly Revolve also carry the brand. Look at our selection of top-rated work bags.
Do you think the Dagne Dover Tote is worth it?

November 3, 2020
Do Dagne Dover Bags Weigh Heavy?

Are the contents heavy? This question is often asked about tote bag design. According to the Dagne Dover website, this bag (when empty) weighs approximately 2.9 pounds.Apr 8, 2019
.Dagne Dover Legend Tote Review