Document Camera For Teachers
Document Cameras Under $300

Models in the middle of the range offer better construction quality and display. Many models include zooming, however they still require a computer connection to operate.
IPEVO has a great range of high-quality document cameras. However, this model is much more affordable. It has 8 megapixels of resolution and can be taken with you if needed.
The truth: Real review: "I absolutely love my document camera. I use it every day because it is simple and easy to use. Plug it into your computer, download the app. Once you have it installed, use your projector to display it on your board. I love that I can move the arm around and the self adjust works great. Lumens LadibugDC125: I recommend it highly to teachers.
Ladibug is stylish, mid-priced model that provides plug-and–play ease and great flexibility. You can use the gooseneck to point your camera wherever you want, while the auto-focus does the rest.
Real Teacher Review – "The PTO gave us a Ladybug camera. Excellent and very durable. This product is durable and has served me well for over 6 years." ELMO OX-1 1433
Elmo are known for their high-end document cameras. However, this Elmo camera can be purchased for most budgets. The digital zoom feature makes it easy to view close-ups without having to adjust the movement of the camera. A webcam can also be attached to the HD camera.
Real Review: This Elmo was used to teach a virtual class and I found it amazing. My first graders were able to see my book in great detail and the image was excellent. Online software was compatible with my campus laptop, which was great. This document camera works best for people who display books often. This document camera is able to flatten curves so that books don't get bent. OCR capabilities allow you to turn scanned pages into editable documents. One downside? It's only compatible with Windows.
Document Cameras $300+

These high-end cameras allow you to use them as a standalone device without having to connect it with a computer. Instead, they're able to be plugged directly into a projector or even operate via wi-fi. Each one offers zooming and HD image quality, as well as other useful features.
If you need flexibility, the IPEVO VZ-X has you covered. This camera can connect to your laptop using USB, your projector through HDMI or wirelessly. You can control zoom, brightness, quality and light directly on the camera without needing to download any software.
Real Review: IPEVO doc camera is used daily in science class with projector and IPEVO doc camera. The camera is still working strong after 3 years. It has been used to record videos for Google Classroom. With an HDMI cable, you can either plug it into your laptop directly or to the projector. For STEM classrooms, the 16X digital zoom can be amazing. A microscope adapter comes with it. The built-in microphone allows you to record videos, and it comes with a remote so you can operate it from anywhere in the room.
Real Review: "This software is great for teachers and other presenters. This tool lets you show not just documents but 3D models. Additionally, you can interact directly with your presentations. A nice case is included and you can use it to carry your materials. You will need an SD card of high capacity if you wish to take notes. (There's an easy one button record on this that I love great for recording lessons then putting them into video format in case anyone needs review or for distance education. "This is an ELMO model (it's still new so we can't find many user reviews yet), which promises to be a true game-changer. The touch-screen control is unlike anything else out there and makes this camera as easy to use as a smartphone. This wireless camera can go anywhere you want. It has wi-fi capabilities and an integrated battery that lasts for up to three hours. Get more details about this new innovative document camera on ELMO's site. You can also buy one directly at Staples.
Join the We. Get involved in the Are. Teachers Facebook group!
Stock your classroom for 2021-22! Teacher prizes worth $40,000
Sign up to win
What is The Best Document Camera for Teachers?

Here are the 12 Top Recommended Document Cameras for Teachers:
INSWAN IPEVO DC125 Ladibug Ipevo IPEVO VZ-X OKIOCAM i. CODISX3 IPEVO Do-CAM Hue HDPRO CZUR ET18–P Ansauct Doc Camera Thustand V4K V4KCZUR Shine 800 IPEVO Ultra High Definition USB Camera
IPEVO IPEVO 4K Ultra High Definition USB Document camera. Click on the photo for the Amazon Price.
This is our first list of best document cameras to teachers. This document camera can either be used for classroom learning or distance learning. It is ultra-portable, foldable and has all the teacher-basics covered with a teacher-friendly price point!
While this document camera is less expensive than its higher-end sibling, it still offers the same 8-megapixel camera. This will ensure that your video and images are as high quality. It can also be connected via USB. However, the USB serves as the power source and also acts as the interface for the camera. The Ipevo software is installed via the USB as a plug and play device that even the least tech-savvy teacher can install!
Auto-adjusting features are a big hit with teachers. These features make it easier to navigate the software and switch pages. These are all great features, but there is one problem: The buttons for these functions are at the top of your camera. Sometimes pushing them can cause the camera move.
Specifications For The Ipevo V4K Ultra Hi Definition Usb Document camera:

Sony CMOS 8 megapixel camera
An USB cable for your computer
Computer Platforms: Macintosh, Macintosh, Chromebook
Weight: 1.85 pounds
Dimensions 10.9 x 3.1 x 1.9 Inches
INSWAN INK-1 Mini 8MP Micro USB Document Camera. Click on the photo for Amazon prices
Next up on our list are the INSWAN INS-1TINY 8MP USB Document Camera. This Inswan camera is lightweight and portable. Its small size allows for more desktop space. It connects to your computer via USB and captures at 30fps for a smooth demonstration that won't remind your students of stop-motion animation (though we have seen some students make some cute stop-motion with document cameras! It can be downloaded here.
How Can I Use A Document Camera In The Classroom?

Teachers can use a document camera to enhance classroom learning.
Following along in textbooks
Loud reading in novels
Displaying handouts
Inspecting charts
Viewing the maps
Analyzing graphs
How Can I Use A Document Camera For Online Teaching?

Many of the top document cameras are compatible with online teaching platforms such as Zoom and Skype. Online learning can be just as effective with document cameras in the classroom.
Also, you can record your lessons using a document camera. You can then upload the recording for later reference. As a resource, you can share the recordings with students.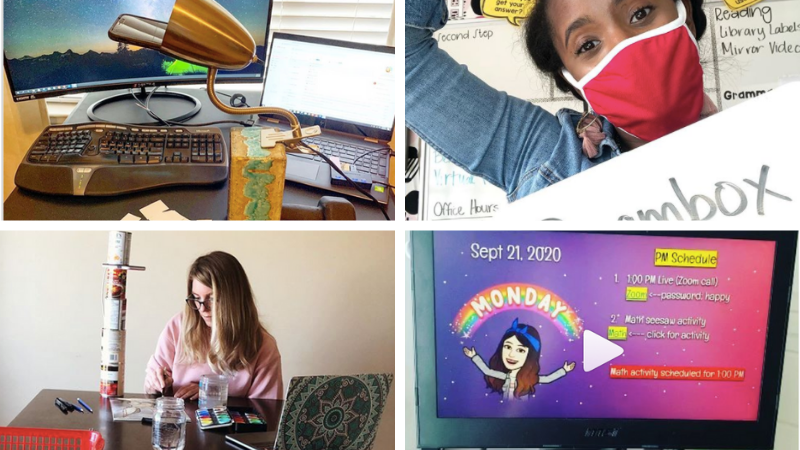 Best Document Cameras For Teachers

(Image credit: Ipevo) The best document cameras can take the live classroom experience onto a big screen or directly into the remote learning gadgets of students. This compact camera is more versatile than ever and can be used to replace overhead projectors.
Live video can be provided by document cameras, which allow you to display live video footage, such as a document or a book. Some integrate with Zoom to allow you to give remote lessons with both the Zoom webcam and document camera focusing on your face.
Some of these document cameras even have the power to be scanners. OCR (Optical Character Recognition), is used to convert text to digital. It's worth noting the variation between USB and HDMI models, with the former ideal for online use, integrating with Zoom, but the latter ideal for classroom use, easily plugging directly into projectors or screens.
The best document scanners to help teachers have been compiled by us so that you can choose the model that is right for you.
How to Use a Document Camera for Remote Learning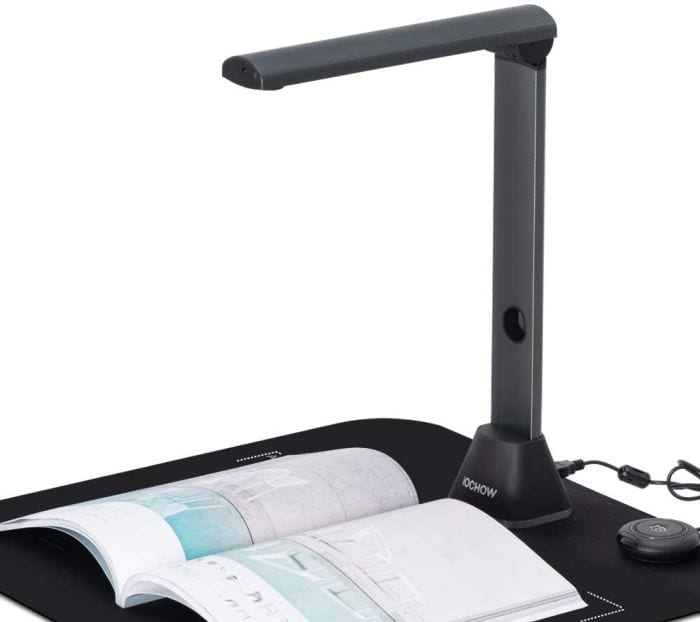 High Quality Imagery Displayed by The Document Camera

A document camera that can produce high quality images with versatility could be turned into an interactive engagement tool comparable to tablet computers and other high-tech products. It doesn't always have to be the most expensive document camera; the best cameras produce engaging images that are clear and concise.
The imagery quality is determined by the megapixels, frames per second, digital zoom capabilities, auto focus ability, clear image quality, and additional video and audio features. A built-in microphone assists teachers in including audio and video for a more active display.
In poor lighting conditions, an LED light with built-in illumination can enhance visibility. You may be able to see more details if it shines directly on your image.
Advanced features that could improve the image quality are contrast, color correction, brightness, details, and saturation. Information about these features can be found in the majority of document camera reviews.
How do teachers choose a good document camera?

1) IPEVO I4K Ultra HD USB Document Camera. 2) INSWAN INS-1 Tiny 8.MP USB Document Cam. 3) Lumens DC125 Ledibug USB Camera. 4) Ipevo VRZ-X Wireless Camera. 5) OKIOCAM S 2-in-1 Webcam and Camera. 6) iCODIS X3.7. IPEVO Do-CAM. 8) Hue PRO Document Camera.
Which is the Best Digital Camera for Online Teaching?

Epson DC-21 HD With Optical Zoom.
IPEVO V4K Ultra-High Definition Document Camera.
Elmo 1349 Model TT-12ID Interactive Document Camera.
AVerVision U50 FlexArm document camera.
IPEVO VRZ-R USB/HDMI Dual-Mode Document camera.
iCODIS Document Camera.
HUE HD Pro Document Camera.
Lumens DC125 Ladibug Document Camera.
The Document Cameras: How do Teachers Use them?

Assist Your Students in Reading & Writing.
Science Labs brought to life
Show-and Tell: Give the Show Some Love
Magnify Math Manipulatives
Demonstrate your ability to use technology.
3 Sep 2019, Review and Discuss Tests and Quizzes.
Can I Use My Camera As A Document Camera?

You can again use the camera on your phone as a document photographer. Connect a second camera as the host to your computer. Share it in Zoom meetings and you can then use it as a documentation camera. This can be either a webcam, an actual document camera or a camera that is compatible with a computer.
.Document Camera For Teachers