Best Dry Erase Lap Boards
We have the Best Dry Erase Lap Boards For The Classroom And On-The-Go
">best dry erase lap boards for classroom and on-the-go

This article contains affiliate hyperlinks. Click on them to make a sale. We'll receive a small portion of that sales. However, this does not influence our editorial content. For more information, you can refer to the disclosure.
In this article, you will find the best dry erase lap boards for the classroom and on-the-go drawing on field trips. One of the best tools for learning in a classroom can be a dry-eraseboard. You can use dry-erase boards to play games or do specific learning activities. The chalkboard was once the most effective learning tool, but technology can be overwhelming in today's classroom. However, lap boards provide a way to promote learning using various methods.
Another major benefit to dry erase board is that they are inexpensive and can be used over and over again. Many students can see the benefits of a purchase of $100 or less. When funding for educational tools is limited, teachers often use them.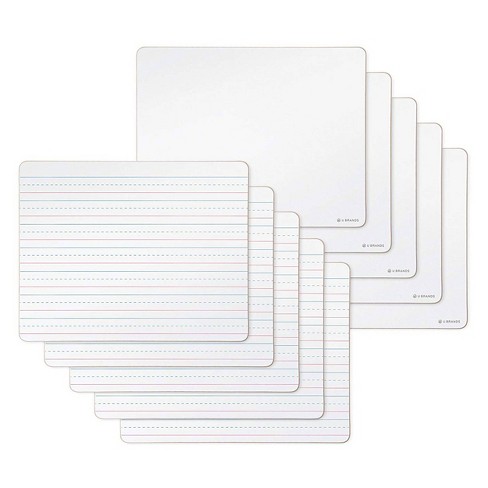 There are nine best dry erase lap boards on the market

Dry erase lap boards have certainly made their way onto our list of the most versatile classroom tools available! These boards are an eco-friendly option to traditional paper but can be used in a variety of activities. Because they are light, dry erase lapboards can be easily stored and carried around. Learning how to write neatly and clearly with dry erase boards is possible using lined lapboards.
You can use blank boards to complete other classroom activities like solving math problems or free drawing. Lapboards allow learners to capture ideas, display papers using a firm magnet, or attach additional items. It is easy for teachers to incorporate lapboards into classroom settings and enhance their existing teaching methods. Our team can help you whether your goal is to buy double-sided dry erase board, a deluxe dry wipe lapboards set or just a plain lapboard. Follow along as we weigh up 9 of the best lapboards on the market.
At A Glance: Our Top Picks

Scribbledo Six Pack Small Dryerase Whiteboard 9 x12 Inch. Durable Portable Whiteboards for Children Scribbledo six pack small dry erase whiteboard 9 x12 inch. l Durable and portable Whiteboards for Children Dryerase lapboards do double side +Markers/Erasers 9′ x 12″. Mini White Dryerase Boards, Students Whiteboards 24 packs Dryerase Whiteboards Classpack 9″x12″. Dry Erase board Lap boards. The 22 best student dry erase boards have been ranked based on their sturdiness and ease of use, cost effectiveness, maneuverability, and light weight.
* Independently reviewed, reviewed, and recommended the top products on the basis of extensive data analysis. If you click the links to the product, we might earn commissions from any qualifying purchases.
Scribbledo 6 Pack Small Dry Erase White Board 9 X 12 Inch Lapboard L Durable Portable White Boards For Kids Students

Scribbledo 11 x 8.90x 0.71 inches. Scribbledo See Amazon Customer Reviews Single-Sided For The Best Comfort.
With its large writing area, each whiteboard gives students plenty of space to create. You can also use it for spelling and penmanship.
Lightweight boards can be maneuvered with ease thanks to their lightweight.
This lightweight, but durable material is easy to use by students in a classroom setting. It's great for interactive effective learning or even bedside study.
These boards are environmentally conscious features A dry erase design allows the boards to be used over and again for added value, while teachers can save pages of paper.
What's the Difference Between a Whiteboard or a Dry-Erase Board?

It is not possible to tell the difference between whiteboards and dry erase boards. They can be used interchangeably, two different words to describe the same thing. Some people refer to them as whiteboards simply because they are white.May 26, 2021
What's the Best Material for Dry Erase Boards

What whiteboard material works best depends upon its surface quality. Porcelain has a better durability, longer-lasting life span and is easier to clean than melanine. However, glass whiteboards are a step ahead of porcelain. Although not porous, glass whiteboards can prevent unsightly ghosting, staining and markings.
Which Whiteboard Works Best for Home?

We have more…
Can Dry Erase be used on posterboard

Poster board, the reverse side of a piece wrapping paper or poster board would be great options for the paper. This would be a great party game for kids, a fun family activity for a backyard BBQ, or a playful learning activity for a fun summer day at home. EXPO Dry Erase Markers w/ Ink Indicator can be found here. Oct 17, 2019
.Best Dry Erase Lap Boards