Bitmojis are used most often in education for the creation of virtual classrooms. These virtual learning hubs can be hosted on Google Slides. This is a way for teachers to post resources and classroom material for students. Each teacher has a Bitmoji classroom that is uniquely theirs. Some teachers have made them resemble their real-life classrooms or homes, while others have leaned toward fantasy.
Faceq
FaceQ is an avartar maker that can help you to create your own cartoon avatar easily.You don't need any drawing skill,just use the face parts and adjust them by yourself.Just like a puzzle game,you can make your own avatar by combining various face parts. There are three kinds of avatars: man, woman, and kid. With this app, you can be anyone you want to be! If you're not our member yet just download the app then FaceQ(MYOTee) is a very fun and powerful avartar maker.
Looking for a fun and easy way to create your own avatars?
Look no further than FaceQ!
With our powerful and easy-to-use avatar maker, you can create your very own cartoon avatars in minutes – even if you don't know how to draw!
Simply combine various face parts to create the perfect look for you.
Looking for a fun and easy way to create your own cartoon avatar?
With our user-friendly interface, you can combine various face parts to create the perfect avatar.
Whether you're an experienced artist or just starting out, FaceQ makes it easy to create avatars that look great.
Cartoon, Avatar Maker
This is a tool to create your own avatar. You can customize the hair, eyes, skin color, and much more. The application has over 100 stickers for you to use. Create your own avatar from scratch, or choose from a library of pre-made avatars to quickly make your own. You can even take a photo of yourself and turn into an avatar with our webcam feature!
POSITIVES
Easy To Use

Tons Of Fun Stickers.
With the Cartoon, Avatar Maker you can take on a whole new persona – or just have some fun with your friends and family.
This easy-to-use app lets you customize your avatar however you want, with tons of stickers to choose from.
– Create your own cartoon avatar!
– Add personality to your friends and family with a unique, customized avatar.
– Express yourself in a whole new way with your very own cartoon avatar!
Emoji Maker
This is a great app to create your own Emoji. You can design your own custom Emoji with this Smiley Creator, Emoji designer app. A complete emoji keyboard for Facebook, Twitter, and all social messaging apps! Try it now – have lots of fun with this new emoji maker app! Emoji Maker is the best way to create
POSITIVES
Express Your Mood With Just A Few Taps!

Best Smiley Creator Emoji Designer App.

Design Your Own Custom Emoji.

Fun And Addictive.
With just a few taps you can create your very own custom emoji to express your mood.
This app is the best smiley creator and emoji designer around, so you can have all the fun you need to get through your day.
– Emoji Maker is the best way to create custom emojis that express your mood!
Just a few taps lets you design your own emojis, complete with unique expressions and accessories.
– With Emoji Maker, you can have tons of fun creating new emojis to share with your friends.
Sara Hannah is a Kindergarten teacher. Her Bitmoji classroom looks very similar to her actual classroom. However, it has some fun elements. In the virtual room, clickable icons link to assignments, games, read-alouds, and short video lessons even the virtual cats are clickable. Bitmojis, she claims, have increased the excitement surrounding classes.
Brittney Harvey Brittney Harvey is a qualified occupational therapist assistant who guides elementary students through the Bitmoji occupational therapy area.
Brittney Harvey was an elementary school occupational therapist assistant and created an occupational therapy space for her students. You can link to Zoom, Pre-writing Video Lessons, or GoNoodle, a library of exercises and videos that will help Harvey's students improve their gross motor skills.
Setting expectations and norms
Bitmojis are a fun and effective way for teachers to remind students of the expectations and rules in virtual classrooms.
Brandi Dunley Brandi Dudley made this poster to remind her first and second-graders of Covid-19's protective measures.
Jillian Graham (high school math teacher) from Fort Mill, South Carolina created guidelines for students during Google Meet class and used Bitmoji to remind them. The Bitmoji she created for students was used to guide them on how to conduct themselves during Google Meet sessions.
Relationship-Building Activities
Bitmojis also have been found to be helpful in helping teachers build stronger relationships with their students, even if they are miles away.
Angie Baton Ritenour iSpy was played by Angie Baton Ritenour with her fourth-graders last semester. It helped her class connect following the sudden switch to at-home learning.
Last spring, Angie Baton Ritenour, a fourth-grade teacher in Farmington, Michigan, collaborated with two grade-level colleagues to create an iSpy Bitmoji room , which they used during a video call to get students more engaged in remote learning. The virtual classroom was filled to the brim by objects such as photos and other items taken from students' classrooms. During the video call, students took turns saying "I spy with my little eye…," and their peers had to guess what object they had picked helping students build connections with one another.
Galiba Dzaja is from West Valley City (UT) and says that she has added her Bitmojis into a Google Form in order to do a daily social check-in and an emotional and psychological check-in. She integrated Zones of Regulation which is a framework to help people regulate and identify their emotions.
Amanda Wells also stated that she will have her eighth-grade students do an All About Me Bitmoji assignment to get to know each other better. The Google Slide is a format that allows students to describe their hobbies and add a picture or drawing.
Amanda Wells loves to make use of Bitmoji to meet her students and start the year off right.
Teachers are often told to focus on teaching engaging lessons, rather than making redundant Bitmoji resources. But educators have proven that both can be done.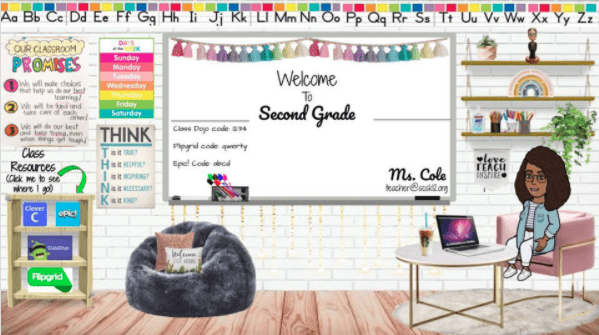 What is a Bitmoji classroom and how can I build one?
Bitmoji classroom is quickly becoming a favorite way to use remote learning. Both students and teachers find it engaging, lively and fun. Are you able to participate in this trend, or are you better off waiting?
Bitmoji is an image- and app-based social media interaction tool that's widely used. The app is popularly used to encourage expression and creativity by children. They can create characters based on their emotions and place them in social media, email, and other communication channels. Bitmoji animated are used as virtual teachers by teachers.
Although remote learning may not be the best way to learn now, it has shown many ways that the classroom can benefit from a hybrid digital experience. This is one of them.
Would you like to be a Bitmoji teacher? This is too much fun, or does it distract from the important task of teaching?
How Do I Setup A Bitmoji Classroom?
The first thing that you need is to install the Bitmoji app on either your Android or iOS smartphone. Register here to take a selfie, then customize your digital avatar. Change everything from clothes and hair to eye shape and facial lines.
First, download Bitmoji Google Chrome to be able to share Bitmoji on multiple platforms. You will be able to add the Bitmoji Google Chrome extension to your Gmail, as well as an icon to your Chrome address bar.
Google Slides can help you build your virtual classes, particularly if your school uses Google Classroom. This can be also done with PowerPoint for Microsoft users.
How to Make a Bitmoji Classroom?
You can begin to build once you have opened your PowerPoint slides or PowerPoint doc.
The second step is to start building your classroom using pictures you have found online. You could also take photos and upload them. In the above example, you could search for "white brick wall" for your background, to get started. You can find many template options online to help you get started fast.
Add your Bitmoji. You can use these to represent your character in many different situations, as they are automatically generated by the app. You can either drag the image to Slides by clicking on it, or you can save it using right-click and Save.
Top tip: Try typing "pose", in the Bitmoji search box, if you are having trouble finding a photo of Bitmoji characters standing up.
Best Ways To Use A Bitmoji Classroom
Set expectations. Make a single sheet that contains guidelines for students about how to work remotely. Include tips like "mute your microphone," "Keep Video On," and "Sit in a Quiet Place" along with fun Bitmoji images that fit the direction.
A virtual open class can be hosted. Different rooms can offer different guidance. Every slide is a unique representation of the room. Rachel J. has this example.
You can make a virtual field trip or escape room by using images, links, and other resources. De K. created this template to create an aquarium field trip.
Destinie B. offers an escape room.
Create a Bitmoji library. Line up images of books on a virtual bookshelf and have each one link off to either a free or paid link for the student to access.
Digital is not the only option. It's a great way to brighten the classroom by using printed copies of Bitmojis. It can also be useful, such as being used to remind students of guidelines.
Digital Tools Best for Teachers
Get your Own Design!
Want your own interactive Bitmoji classroom? You can watch this tutorial to learn how you can create your interactive Bitmoji classroom.
This is how to connect it to Google Classroom, Seesaw and other services:
This video tutorial walks you through the steps to making a Bitmoji Google Classroom banner:
If you want to see step-by-steps, this link is for you!
Do you have your Bitmoji classroom? Get involved in the WeAreTeachers HELPLINE Facebook group.
Don't miss our amazing holiday giveaways! Register to Win Gift Cards, Tech, Books, and More!