Scholarshipowl Review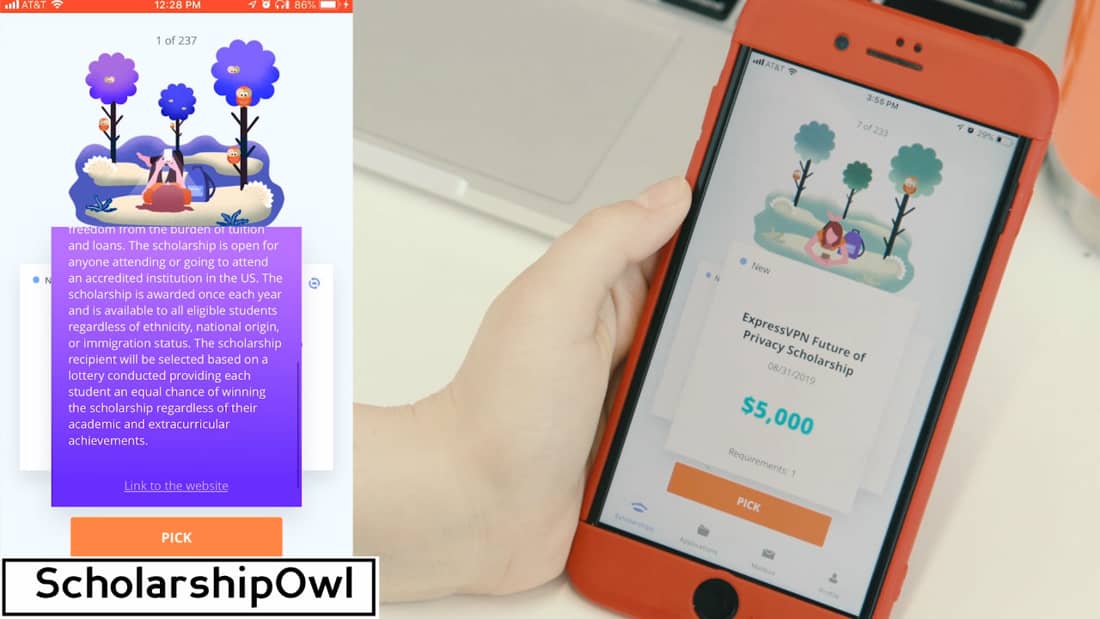 Is Scholarshipowl expensive?

ScholarshipOwl is considered a "freemium" service, in that some basic services are provided for free, while additional "premium" features require payment to use. What ScholarshipOwl features can you get for free and what are not?
Good question. It is easy to create a ScholarshipOwl profile and view all your scholarships matches. You can apply for scholarships from ScholarshipOwl, but not directly. A variety of payment plans are available, all with differing prices and billing periods. We'll give you a quick overview of the various payment options:
Not all ScholarshipOwl payment plans allow you to apply for scholarships through the site. Each plan's unique characteristics are listed in our breakdown by payment plan (see the below).
Billed monthly
Awarded to all applicants for renewable scholarships
Receive one (1) 500-word professional review every month
What do You Have to Pay?

There is no such thing as free lunch.
ScholarshipOwl has a cost-free service but not if you are looking to get scholarships. You can try each plan for free for 7 days before you pay. Although the screenshot has four columns, it shows three payment options for one paid service and an Elite service.
The paid service has three payment plans. If you pay monthly, it's $20 a month. You can pay monthly or quarterly for $15 per mo. You can pay it twice per year for $10/month. These plans include access to scholarships as well as the option to apply online.
They only offer 100 Elite packages per month and the price is $499. Your personal admission coach will assist you. They also offer tutorials and training sessions. Professional essay reviews are available.
Is Scholarship Owl Worth It?

I don't give Scholarship Owl a rating in this review because I can't use it myself. I'm now nearly twenty years removed from applying to colleges so I don't want to spend time applying (and potentially winning but then declining) to scholarships.
You are paying for a scholarship search engine with a tracking feature that will keep you up to date on the status of your scholarship applications. If you do not need an essay for a scholarship, you may mass-submit them to the engine and follow up with it.
The service is available for 7 days, so you can try it out to determine if the experience suits you. If you do, it's cheap at $10-$20 a month. Just remember to cancel if you don't want it anymore because the fees are non-refundable.
There are alternatives to ScholarshipOwl including Chegg Scholarships Scholly Scholarship America Scholarship Points Cappex . Scholly's fees are $2.99 per monthly, and Scholly's is $1.99 less. All of them can be tried to see how they compare.
Scholarshipowl Review: Win More Scholarships

by share 1 year ago See how we make cash.
To summarize: ScholarshipOwl provides a useful service that allows students to apply and find scholarships. You can search for scholarships and apply through it. However, you will need to subscribe to the service in order to be able to submit your application.
Many college students find that money is their biggest obstacle to education. Many college students borrow excessively and are left with enormous debt in the current economic climate. Graduate with minimum student loan debt is more important than ever as tuition costs continue to climb.
Students often apply for scholarships in order to cover these expenses, but it can sometimes be challenging to find them. ScholarshipOwl can help.
ScholarshipOwl helps high school students search for scholarships and then apply. ScholarshipOwl can match students with scholarship opportunities based on their personal information.
Scholarships are not easy to find so ScholarshipOwl is a great tool. But how useful? In our ScholarshipOwl review, we will address this question as well as many others.
Rating DollarFlow Apply Now DATABASE ScholarshipOwl offers hundreds of thousands scholarship opportunities, ranging in value from $500 up to tens or thousands.
Scholarshipowl Review. Is it possible to find the perfect scholarship for you?

Andrew Advertising Disclosure College believes that it is expensive. The college board estimates that it costs between 25K to 35K, which is a lot for someone who just entered adulthood. College can cost a lot. How can a student save for college? Although you can save money for college, it is not easy. It is possible to work odd hours in a low-wage job to complete assignments during your breaks, but you could also end up with thousands of dollars worth of student loans you will have to pay off over the course of the decade. There's a better solution.
Unfortunately, it can be difficult to get scholarships. It does not matter how many A's you get in your high school science classes. You end up looking for other people on the Internet, scrolling through shady sites. This makes you wonder: Is this scholarship real?
Scholarship boards like ScholarshipOwl help to solve this problem. ScholarshipOwl claims to be able to "connect students with companies offering private scholarships, and make it as transparent as possible for students to apply." But does this website actually work? Are you sure it's worth your money? Is it able to find you a scholarship? Let's see what ScholarshipOwl has to offer.
Does Scholarshipowl Really Worth It?

ScholarshipOwl charges based on length of membership. For a minimum of 6 months, you will pay $10/month. Optionally, you could also sign up to the VIP program, at $69/month. This option offers you one 500-word essay review per month, 6 hours' financial aid, and access to video content about college admissions.
Frankly, this is an extremely high price especially since the college you're accepted into may have its own free platform like this, sometimes called Scholarship Universe. ScholarshipOwl allows you to access for a free 7-day test, however fees will not be refunded after this period.
Although the site can be useful for those who don't know how to search for scholarships, you will automatically apply for the six million other scholarship applicants so chances of you being selected are not very good. Furthermore, a lot of the scholarships require you to apply by email anyway so you're not using the ScholarshipOwl platform. ScholarshipOwl doesn't make the most of time and money if your skills are in writing an essay or searching for scholarships.
Study Scholarshipowl.Com: About, History and Features. Scholarship coverage, benefits

The following post will provide a detailed review of Scholarshipowl.com for students interested in applying to scholarships in the United States. You will learn about the features, benefits, and scholarship coverage that Scholarshipowl.com offers.
You are searching for an online platform where you can receive legitimate scholarships to study in America as a student. This article will provide all the information that you require about the Scholarshipowl website.
We will be answering a few questions about Scholarshipowl.com. These questions were posed online by those who searched for scholarships.
Is ScholarshipOwl com legit?
ScholarshipOwl is it worth the investment?
ScholarshipOwl: Do I have to Pay?
Scholarshipowl, how can I get a reimbursement?
What Is The Best Scholarship Site?

Scholarships.com.Fastweb.Cappex.Niche.Chegg.Peterson's.Unigo.Scholly.More items…*May 12, 2021
Is Scholarshipowl a Good Choice?

Simply go to ScholarshipOwl.com, register and you're done! You'll be automatically entered for the free monthly "You Deserve It" Scholarship by just creating an account. Dec 30, 2019,
What are the Best Ways to Get Several Scholarships at Once?

Step 1: Get started early
Step 2: Assemble all your documents.
Step 3 Find colleges scholarships with the same requirements.
Step 4 Make it a part of your job.
Step 5 – Don't let your discouragement get you down. Get help. January 17, 2021
How Do I Cancel My Scholarshipowl Membership?

You can close your account by contacting [email protected] with the subject "Close my account".
.Scholarshipowl Review