Rolling Totes For Teachers
Rolling Totes For Teachers
Seven Best Rolling Tote For Teachers in 2021

This article includes affiliate links. You can click these links to purchase and we'll get a small share of any sale. This does not affect our editorial content. For more information, you can refer to the disclosure.
Teachers may be moving from one place to another, flying around the world or working from home. Multipurpose bags for teachers are more essential than ever. No longer is it unusual for teachers to have rolling bags with all their supplies.
It is not enough to have something made just for teachers. These teachers are searching for fashionable rolling tote bags or totes that have wheels. Teachers can carry all their belongings in rolling totes bags, from their laptops to take to class to their workout clothes.
Below is our list of top-rated rolling bags for teachers.
We review the best 7 Best Rolling Totes For Teachers In 2021
">rolling totes for teachers in 2021

The black-and-white fashion rolling shopper bag bag is a great option for teachers who are on the move. This Olympia tote has received a rating of 4.4 from a total of five stars by more than two thousand users. This product measures (H x W x L): 20 x 14 x 8 inches and weighs a little over four pounds. There are many color options available for this product when teachers view it online. This bag is versatile enough to fit every personality type, whether you prefer pink or blue polka dots to a giraffe look or plain black.
The Olympia Fashion Rolling Shopper bag's main advantage is its stylish design and functionality. Because the bag is large in size, larger items can be easily stored inside. On the front, there is a smaller zipper compartment that allows for smaller items to be securely held as you venture from one place to the other.
Retractable handles are hidden in the zipper compartment. The wheels on this tote bag appear to be sturdy and can withstand the weight of whatever (maybe not a bunch of rocks) is inside the bag. This item's style and its wheels allow the user to use it in the supermarket or at the school.
The only problem with this fashion rolling shopping bag is the one-size inside. There is no organization. There is only one side pocket to this teacher tote, which means you're going to have to choose between holding that water cup or coffee mug that is carried around by every educator everywhere. You may have to do some extra cleaning if you spill larger amounts of liquid.
View on Amazon 2. Memorystor Universal Rolling Cart & Organizer Memorystor Universal Rolling bag
The heavy duty utility cart is 17.5 x 15.25x 16.5 inches in size and has a strong plastic frame covered with a fabric cover. Out of more than a thousand reviews, the item earned 4.5 stars. This item's handle can move up and down to three different heights, allowing you to choose which is best for you.
The item only weighs a little more than ten pounds and is strong enough to support up to 65lbs. This makes it an ideal choice for teachers who need to be on the go with lots of things.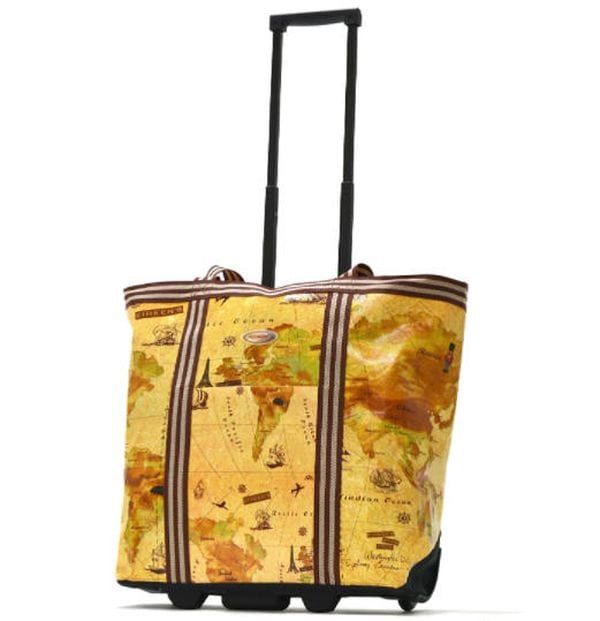 4. Everything Mary Deluxe Confetti Rolling Tote For Teachers

Anything Mary bag could be any type of rolling tote for teachers or a scrapbook cart. This is the perfect teacher roll tote. The main compartment can hold larger items, but there are many pockets that can be used for additional storage.
This easy to use and high quality roll-a-teacher bag with tons of storage space is certain to be a hit. It measures 15 x 9. 75 x 9 75 x 9. 25 in. Amazon describes the rolling utility cart as having a guarantee of satisfaction or your money back. This rolling cart can be used by teachers as a bag or tote with ease.
See this brief video review of The Everything Mary Bag:
For maneuvering tight spots, this rolling utility cart is equipped with both a telescoping and side handle. No secret teachers often spend large sums of money on school supplies. Teachers, like anyone else, don't want to waste their hard earned money on things that won't work and then not be able return them.
One big benefit to the Everything Mary rolling bag is that the company offers a 100% money-back guarantee on their rolling teachers' bags, which automatically is a benefit. It is sturdy, so you can easily get from one spot to the next.
Bags for teachers should be top-quality and contain lots of storage. Luckily, any teacher will love that there is plenty of storage space to use for supplies. The easy-to use handle and wheels make this bag a great choice for teachers.
It is difficult to find a negative with this product. The perfect choice for teachers who aren't able to transport large objects around is this tote. The item looks a bit like a crafting bag, but can serve many purposes.
All in all

It's not enough to have a simple bag for teacher. Teacher use rolling totes and rolling carts in multiple, purposeful ways. Consider where you will use the tote bag. You will use it in school, or is that all you need? Perhaps a heavy-duty rolling cart is your best bet.
Are you going to use the bag also for grocery shopping or other purposes? Totes bags on wheels are the best choice if your bag must be carried up and down.
Teachers who are constantly moving around the school or classroom can benefit from rolling totes. This list includes everything a teacher needs, whether they need something to move around in the classroom or can be carried.
These are the 6 factors to consider when buying a teacher's bag.

Lightweight Rolling carts or totes for teachers needs to be lightweight and easy to carry. Although this is evident in their use, you will be surprised at how heavy certain carts/totes end up being. Because the contents can quickly add up, teachers need to be mobile and lightweight.
The collapsible handle is essential.
A good organization design is essential. The bag must be designed to accommodate teaching material. It is important to have lots of compartments that are organized and protected by zippers.
Huge Storage Space
Maximum weight Capacity What is the maximum weight of your daily supplies? The maximum load capacity for the bag or cart you use will be determined by this. Make sure you don't go over the weight limits designated by the manufacturer.
.Rolling Totes For Teachers