Classroom Library Organization
Classroom Library Organization

How do I organise my school library? That's the question I'm often asked. So let's get to it. The following topics will be covered:
leveling vs. non-leveling texts
Organizational Do's and Don'ts
How do you fund your classroom library
Your library space can be used to encourage your readers
Before we move on, I want to make it clear that there are many ways to organize your school library. It's been several times that I have organized mine because I love learning, growing, and changing. I also enjoy tweaking my library each year to suit the specific needs of my students.
Pretty With A Purpose!

While I was not sure what I wanted, I knew I wanted it. I also needed something that could be used in a way that still met my visual needs. But, I can't let my desire for beauty interfere with my best interests for my students.
How can I combine the needs of pretty and purposeful, functional organisation? They are amazing teachers. I am grateful that they exist. Molly Malloy of Lessons with Laughter is Molly. She has an editable resource on Teachers Pay Teachers resource which is simply Avery labels being used as binder spine labels.
Because this is what students are most likely to encounter in libraries, I've chosen to arrange my fiction books alphabetically by author last names. Molly provided the following resource: All fiction books that I have written, authored by an author beginning with A will come with a matching Green label and the letter "A" will appear on my binder spine.
Most of my students love to read, but many don't recognize the author. They won't be able to go to another bookshop or library and find the same book series they are reading. It is a great organization tool that forces students to be more aware of who's writing what books.
With the spines up, my students are able to see every book in my library.
Because of the color coordination aspect, it doesn't overwhelm students. As my students examine the five bookcases holding chapter books in our classroom, (we will get into funding) They're not just searching for the letter L. They also have the ability to visual search for colors that match.
Book Labeling and Organization

Below is how I organize my books. Every book basket label contains a number and a colored dot stickers. Each book that belongs in the basket/ category has a matching colored dot sticker andnumber. Due to the fact that I have many categories, you might have several baskets with blue dots. But they will have different numbers. Finally, you arrange them in number order. It isn't difficult to arrange the baskets in number order. However, I kept fiction separate from nonfiction.
This is a closeup of the book box. The box's label has a title as well as a blue sticker. This is Box number 6. A matching sticker will be displayed on the Geronimo stilton book.
Here's a picture of the baskets I used to store in the classroom library from 4th grade. Most of my nonfiction books are on the gray shelf. They can be divided into groups. Many of the picture book collections are on the next shelf from the trunk.
The entire area of the library is shown here. You will find most chapter books on the shelves at the right. I was not as prepared and there are some nonfiction books, such as poetry and jokes. Since my baskets are numbered, it was too much work to change it mid-stream.
As I am now in second grade, I wanted to simplify my organization. My system should be simpler. I wanted the younger kids to be able to maintain the organization of the library on their own, and thought the numbers and colors might be too much.
You can also see that in the above picture, colored numbers and dots have been replaced with clip-art and color-back tags.
Classroom Library Organization: Ditch The Bins

I believe the library is one of the most crucial parts of any classroom. We can all agree that my obsession with having a organized library is to cater to the wants and needs of my students. In order to create a better
Classroom Library Organization
">classroom library organization, I had to give up the bins two years back. After watching how my students love browsing shelves in our school media center's media room, I decided to adopt a "bin-free" library. This was something I shared on Instagram. You can view it here. First, bins started gathering dust. Second, bins that were constantly empty were becoming more popular. Although I enjoyed the fact that students could share book suggestions and look at what other people were reading, there was a lot of good literature being lost in these dusty bins. My classroom library is organized without the use of bins. This makes it much easier for my students to browse all of the books without needing to dig through bins that are not used or forgotten.
The reason I had to decide to "de-bin" (that's actually a term now!) was necessity. One student said to me, "I would like to shop in bookshops but it is hard to see what's inside the bins."
Every classroom, every teacher and every student are unique. So bins might work for you. You might have been using bins to organize your library for decades… great! Let me share my logic with you and perhaps inspire you to rethink yours.
My third-grade class needs help to find a library. It would be unreasonable for my third-graders to browse books on the basis of author's name without an electronic search engine using the Dewey Decimal System. (And I will not implement that system in my classroom any time soon). To organize my bookshelves, I created simple, child-friendly labels using library labels. So students can find humorous fiction or find the Ivy + Bean third book easily. Library labels include a short description of every genre, plus labels for featured authors, nonfiction series, topics, and books. It's also possible to modify the labels according to the library you have. Target provided square adhesive pockets to hold the labels. I was able adjust their positions as my library grows. You can laminate your label, attach it to Velcro and change it as necessary.
My students were able to explore my classroom library just like they would the media center or public library, but without the bins. Students can see all of the selection and not just what is in the bin. While I love bins, they were what organized my classroom for the past 5 years. Classroom library organization is something I love, even without the pesky bins. Sometimes it's the smallest changes that make a difference in young readers lives. Perhaps you don't want to completely eliminate the bins. Instead, start by organizing the fiction portion of your library. The best way to organize nonfiction books is by topic. They can also be placed in bins. Plus, oftentimes nonfiction book are shaped differently than your average chapter book and are best kept in a bin of some sort.
Shelf markers were created for every student as a way to recreate our media center's feel and remind them of how important books are. After printing them on white and black card stock I allowed the students to personalize them. Then, they were laminated for strength. In our media center, students were shown how to use shelf marks. In simple terms, the shelf mark is placed in front of the book you wish to take a close look at. If you are satisfied with the book, you can remove it and store it in your book box. If the book is not a good fit, it goes back on the shelf right where your shelf marker is. It helps ensure the books stay on shelves that match their labels.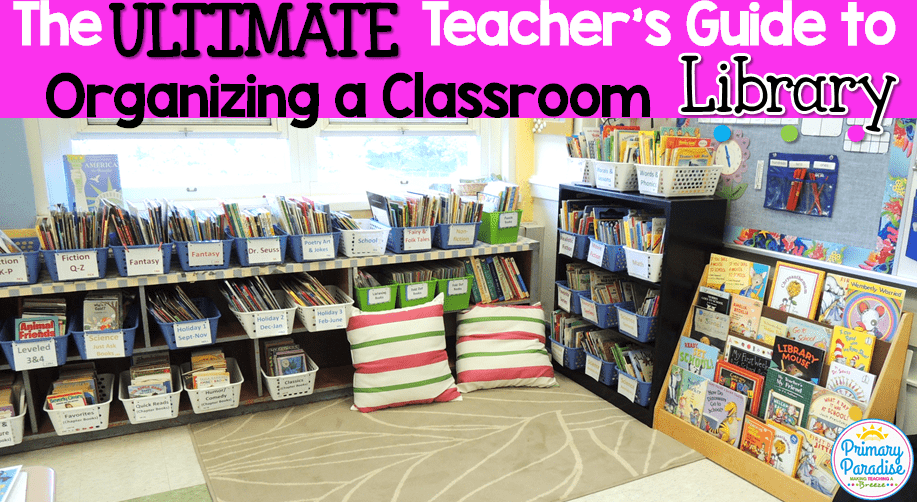 Book Spine Label Organization

One-half of the books in my classroom library are arranged alphabetically according to author's first name. This is how my students usually search for books at a bookshop or library. The way this originally worked is at the beginning of the year I would spend a lot of time perfectly alphabetizing my library, and then once school started I would train a couple reliable "class librarians" to check and put books back in alphabetical order as well. Although this was tedious work, it also meant that if a student accidentally placed a book somewhere, others would then see it and place their books in the same place. This led to a rift in our organizational structure. My goal was to have a method that would allow me to organize my books alphabetically, without worrying about all of the hassle. The book spine labels was born from that idea.
My Classroom Library Rainbow Book Spine Labels are made from a range of different colors. I wanted the colors to fade gradually. The Avery #8160 labels were next. They fit perfectly on my book spines. Each letter was assigned a color. Since I didn't own many books that started with an author's name beginning with x/y/z, I combined these letters into one letter. This way, it would be simple to find the letter as I added more books to my collection.
To help you decide the colors you'd like to use to decorate your classroom library, I have included the blank page in the back of my file. You can see the way your color will print on each printer because they all produce different colors. Also, it can help you decide if you would like to combine certain letters.
I've also had people message me saying they used the Classroom Library Rainbow Book Spine Labels to arrange their books in ways other than alphabetical order. They have been used by some teachers to organize books according to their reading level. Others have discovered other uses that suit the classroom's needs.
Classroom Library Organization

The classroom library is a favorite part of mine, and I'm so excited to share about how it works!
CLICK HERE to read my most recent classroom library post!
children's books. It's a joy to find books I know my children will enjoy. I have purchased books from all kinds of places, including garage sales, library sales, and chain bookstores. My vacation allows me to buy books and then order online. Sometimes I get great deals on books, like from Scholastic, or the sale section of bookstores, and sometimes I pay full price. There is nothing more satisfying than watching my students read and enjoy books from our classroom library. This post will give you a glimpse into how I organize my classroom library, and if you have any questions, feel free to ask away!!
These 5 Tips Will Help You Organize and Manage Your School Library

The Kindergarten Smorgasboard Facebook group is very active in asking questions about the organization of classroom libraries. Recently, I posted a question about classroom librarian organization to our Facebook group. The responses were amazing…tons of great ideas…and helpful tips. But ….people…is it possible that I haven't ever written a blog about my library ?!?! SHAME! Greg has always been a bad boy. This will be rectified today.
UPDATE: Today I spent the day redoing my classroom library. I got rid of books (duplicates and old worn-out books), and more importantly, I re-did my categories and organization. A lot of different categories were broken down into smaller categories. The result was that our classroom library aligned more closely with the themes and units. For example: instead of 5 boxes of "holiday" books, we now have holiday-specific boxes. There are Halloween boxes, Christmas boxes, and so on. There are now more categories to choose from, and things are organized better. (And I now don't even know how many things are! It used to be that I knew exactly how to locate a book in a box. I now have to do it all again! HEHE!)
Here are my 5 tips for organizing your classroom library.
Creating A Cohesive Classroom Library

Teachers have an organized system for their classroom library. Similar to many other teachers, my personal library includes bins suitable for various reading levels and bins appropriate for seasonal holidays, themes, and even seasons.
While most teachers are organized, the pitfall of most libraries is a lack of cohesion. A confusing assortment of containers in different styles, sizes and colors can derail any functional library. Although I have a variety of containers in my library, some are different sizes and colors. But it is the carefully placed items that make the library stand out.
Notice how each row contains the identical type of box. You can see the clean lines and it helps you eliminate clutter.
The longest shelf in my library contains larger baskets to hold books. There are a few books I own that have an abundance of materials. Their books would not fit inside the boxes. To reduce visual distractions, I used the larger baskets and the same color scheme as the lower shelf.
You will see student books boxes on the top shelf. To add simplicity, they are the same green color. These bins are for students and were bought at Really Good Stuff. Their online store sells 12 sets. You can choose one of the colors. They make a wonderful tool to help organize classroom libraries.
All my bins of Really Good Stuff were placed backwards onto the shelf. It maximized color contrast and decreased book clutter.
Each box was also labeled with hot glue and laminated.
Classroom Library Organization

After you have established the library structure, it is time to ORGANIZE all the books in bins. And, even more importantly, LABELING every item in the library so it can remain organized and functional for student use. Don't know where to start? I've got you covered!
Each item has been organized with my Classroom Library Labels Black Series set. This downloadable resource provides two size options of label and book labels for organizing classroom books, regardless of reading level.
The best resource to label your elementary school classroom library is Kinder-Craze's Classroom Labels.
Use the set in no time. Laminate the book bin labels you want. Attach each label to the library bins by cutting it out. Apply laminated labels using hot glue. It is long-lasting and durable. But it can also be removed easily from many plastic surfaces. You can print the coordinating labels for your book (formatted for Avery 5160 label printing) and then cut them into separate strips. To make it easy for children to organize and sort the books, attach each one to the matching bin.
Organizing Your Classroom Library By Genre Could Be A Good Fit For You If:

You want to give students control over what books they choose to read
Students can choose their own books to encourage a love for reading.
You want to introduce students to a variety of literary genres
If you are willing to put in some effort up front, it will make your life easier later
Looking for an easy method for students to search for and place back books?
Are you organizing your first classroom library? Or are you looking to create a new organization system for your library
How can you organise a class library?

Label the books. I highly suggest labeling the books as coming from your library.
You will need to decide on the type of sorting you want.
Choose the right book category.
If you decide to engage students,
You can catalog the books.
Organise the books and give them a label.
Making labels
How do I manage my library of classroom books?

BookBuddy Library Manager
Libib.
Goodreads.
Booksource.
Book List Library ISBN Scaner.
Book Leveler for Teachers.
Scholastic Book Wizard.
What Do You Need in a Library for Classrooms?

April 14, 2018
Why is it Important to Organize Your Classroom Library

Not only do you need a large library but also an ORGANIZED one. An organized library in a classroom makes it easier for students to locate, is pleasing to the eyes and even encourages children to devour books.
.Classroom Library Organization