Best Teacher Backpack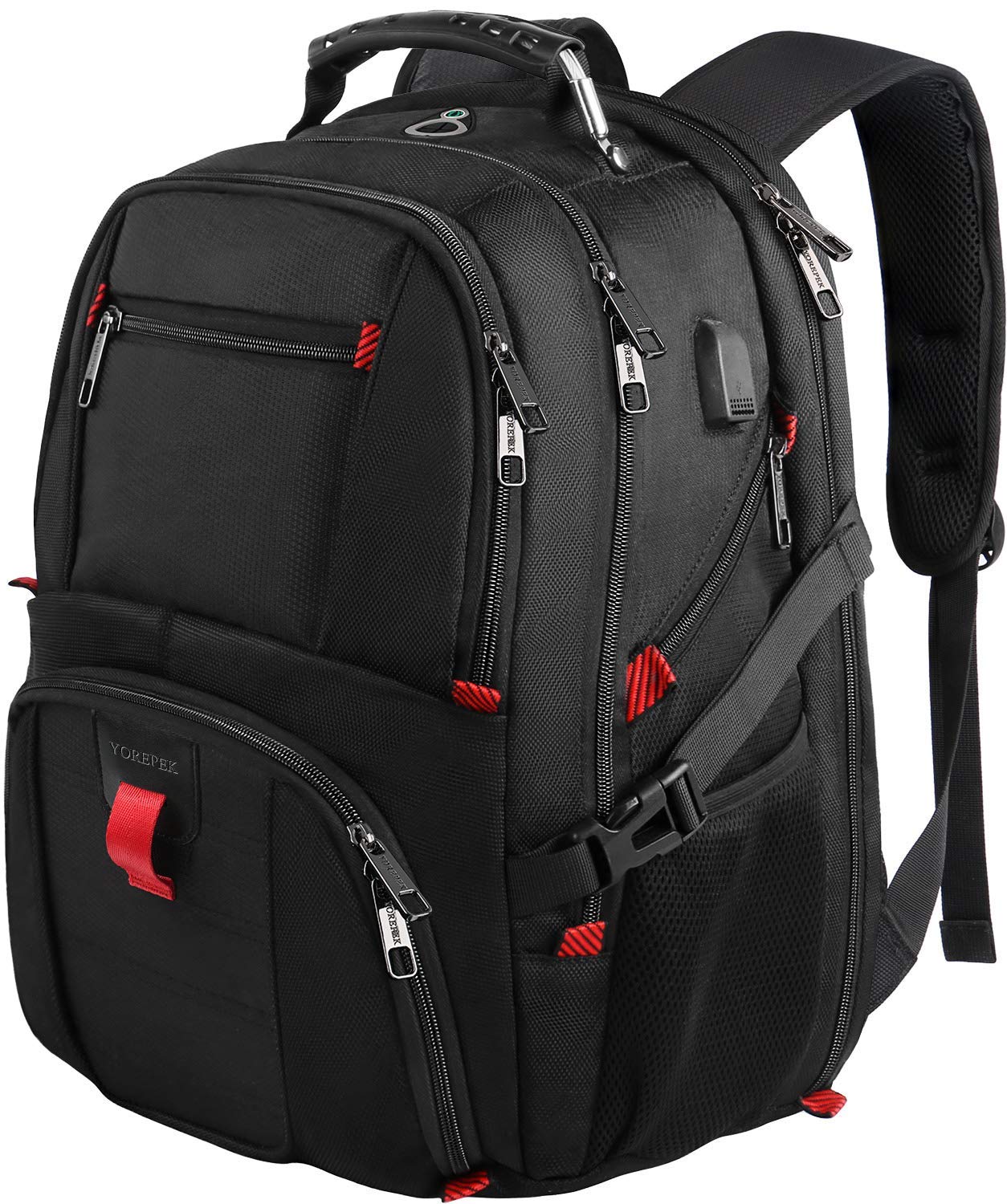 An organizational masterpiece

Teachers backpacks must have plenty of storage. For supplies, such as pen and pencil cases, an external pocket is essential. The best backpack will also have a padded compartment to keep your laptop safe. Is it possible to have a rolling backpack? Yes, please! You need backpack straps to ensure that your bag stays securely in place. Excellent backpacks will check the following boxes.
Access to Items easily
After defining the characteristics that a basic backpack should possess, we can now outline which backpacks we recommend. Women and men will have different requirements for backpack materials.
Our 8 Best Teacher Backpacks Reviewed

One of the top-rated teacher backpacks in 2018! It has several useful pockets and is made of water-resistant material and comes with a laptop compartment that fits up to a 15.6-inch laptop. This bag has an internal USB port, and comes with a charging cable. This pack features six pockets to help you stay organized. This pack has an adjustable backstrap and padded padding. The lightweight and scratch-resistant material is anti-tear.
The look of this water-resistant laptop bag is modern and a perfect fit for a stylish teacher. The six pockets are large enough to store all your teacher's necessities, such as laptops, tablets and teacher editions. There are no divider pockets for pens and pencils, so you may look into purchasing a pencil case. The zippers tend to get stuck, but it is nothing that inhibits the bag's overall life. The backpack has a charger that we love. However, to be able to charge your tablet or phone with it, the battery must also be charged. The backpack's design is simple, durable and lightweight. Although it doesn't have many extras, the backpack is still affordable and can do the job.
Amazon 2: TSA Friendly Yorepek Travel Laptop backpack,
Although it is just a basic backpack in black, this backpack deserves to be on our top 10 best backpacks for teachers. Yorepek's Laptop Backpack features anti-theft zippers and is super spacious. It also has a USB port with a plug, headphone hole, water resistance, and an extra large one. It can open to 180deg and lay flat. This backpack is available in two sizes and will accommodate a 17 inch laptop. Made from polyester with a nylon lining, you have six colors to choose from. TSA-friendly means the bag can be quickly scanned while in flight. It comes with a front mesh pocket that holds a power bank, pen case, and anti-theft features. It also features two pockets on the sides that can store water bottles or umbrellas.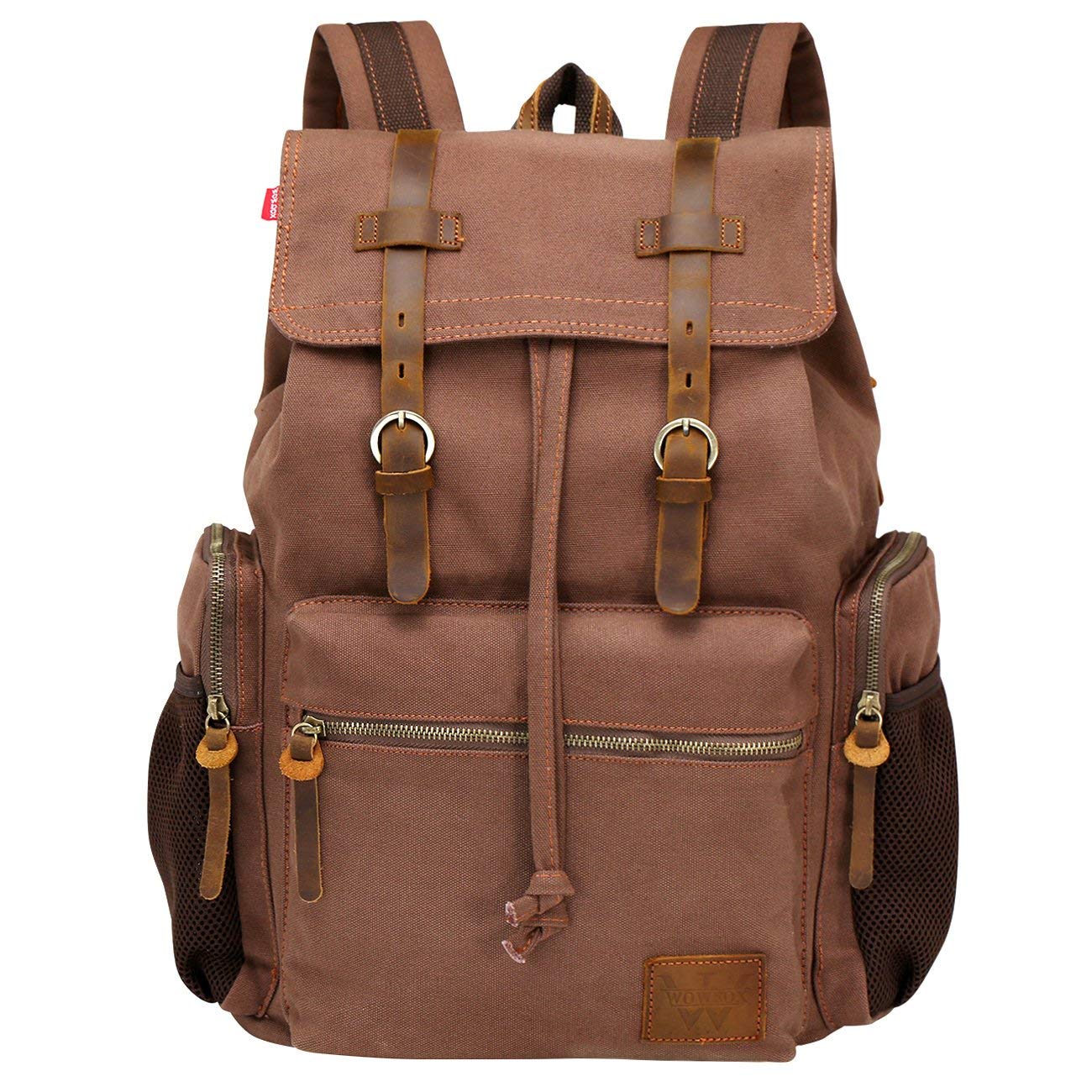 Our Thoughts

This traditional backpack is perfect for the traveling teacher, especially if you fly often. The backpack opens flat so you can quickly get through security at airports. The backpack is sturdy and can be used by both men and women. The main compartment is spacious and great for multiple teacher editions and assignments that need graded. It has an ergonomic design and is very comfortable. It's affordable with a zippered back anti-theft pocket. We love this feature mainly for traveling. The backpack is very well-made and affordable. This backpack's only problem is its ability to overload the huge capacity, making it difficult to transport. This backpack is comfortable to carry thanks to its large carrying handles.
Amazon 3 Kroser Laptop Pack
You can choose from two sizes of the Kroser Laptop Backpack. There are seven designs and colors available. To make it easier to reach, the bag is lined with nylon and has an opening at its mouth. There is a laptop compartment in the main compartment. You can fit your 15.6 inch laptop in the laptop sleeve. High-quality leather and PU handles make it easy to transport the backpack. To make travel easier and help attach the backpack to your suitcase, there is also a luggage strap. Similar to the other backpacks listed, this one has a USB charging socket and shoulder straps that are well-padded. You will find several pockets on the front that can hold smaller items. It is perfect for substitute teachers. There are two side pockets that can hold small items such as a water bottle or an umbrella.
Unlike the Modoker and Yorepeck laptop backpacks on our list, this bag is geared towards any teacher. This bag is elegant and professional. It's ideal as a shoulder bag. It is easy to carry, with the various carrying options, including the handles and the back. Even if your laptop is larger than the average size, this backpack might prove difficult. A 17" laptop will not fit in this backpack. You can easily access your items with the open-top design, providing comfort and convenience. The mid-range pack, which is highly rated, has a professional look and can be used for teacher work.
View on Amazon 4. Matein Travel Laptop Backpack – Top Pick
The perfect bag for teachers. The Matein Laptop Backpack is packed full of features. It has an integrated USB charging port, a laptop sleeves, elasticized pockets and a rear-padded pocket. Available in 2 sizes and 10 colours, this backpack features a strong, comfy handle with hanging clasps, adjustable shoulders, and multi-panel airflow. The backpack can be used with a Yorepek 15.6 or 17 inch laptop. The backpack is lightweight and portable. Large main compartments can hold folders, planners and even a lunchbox. It can store keys, many pens, and even cell phones.
Best Teacher Backpacks

The backpack is the perfect choice to help teachers keep their classroom organized. The following are the best backpacks to help teachers and other professionals:
Everki Atlas Laptop Backpack Tumi Voyageur
OGIO – Metro Pack Yorepek Laptop Bag
KROSER Laptop Backpack Modeoker Vintage
Unique Retro Vintage Matein Professional Backpack
Ideal for work or travel. Click here to view it.
For many reasons, the Matein backpack ranks high on our list. The Matein backpack is affordable, lightweight, sturdy, and well-organized. If you're in the market for an awesome backpack for both travel and work then we can't emphasis how much we love this backpack for teachers.
The 10 An Organizational Masterpiecee
">best teacher backpacks of 2021

Being a teacher comes with moving several things from your home to the class. These items could be your papers, laptops, or books.
Matein Travel Laptop Backpacks will help you make daily tasks easy by providing the right backpack. Here are the top 2021 teacher backpacks. You will find all information about them in this review.
Anti-theft backpacks are high quality bags that have a USB charging port. This backpack comes in nine colours, which gives you plenty of choice. There are several pockets inside, such as a front pocket for your laptop, a rear pocket with padded pockets and stretchy pockets that will help keep you organized. Comfortable and adjustable straps ensure that the handle feels great. It also has an antitheft back pocket so you can protect your important items from pickpockets.
It is comfortable and breathable.
These shoulder straps can be adjusted.
It is long-lasting and water resistant.
7 best teacher backpacks for 2021

Click here to visit See Nic Wander. These links may result in me earning a commission. You can read the disclaimer for more details.
Having an awesome teacher backpack can be a gamechanger for busy teachers on the move. To help you find the perfect backpack for your needs, we have compiled a list of 7 top teacher backpacks.
When I taught in a traditional classroom, I loved having a reliable teacher backpack to stay organized as I traveled to and from school. Now that I teach online while traveling, I use a backpack to tame and transport keep my entire remote classroom.
Find my favourite teacher backpack here!
Well-Organized

There is no need to waste time searching for that pen, paper or note. You'll feel more organized and will have all the necessary tools you need at your fingertips.
Since most teachers carry a laptop these days, it's also nice to have a backpack with a designated laptop sleeve.
You can keep your laptop protected with this padding. It's more comfortable to have heavier items right next to you so they don't slide around.
These are the Top Teacher Tote Bags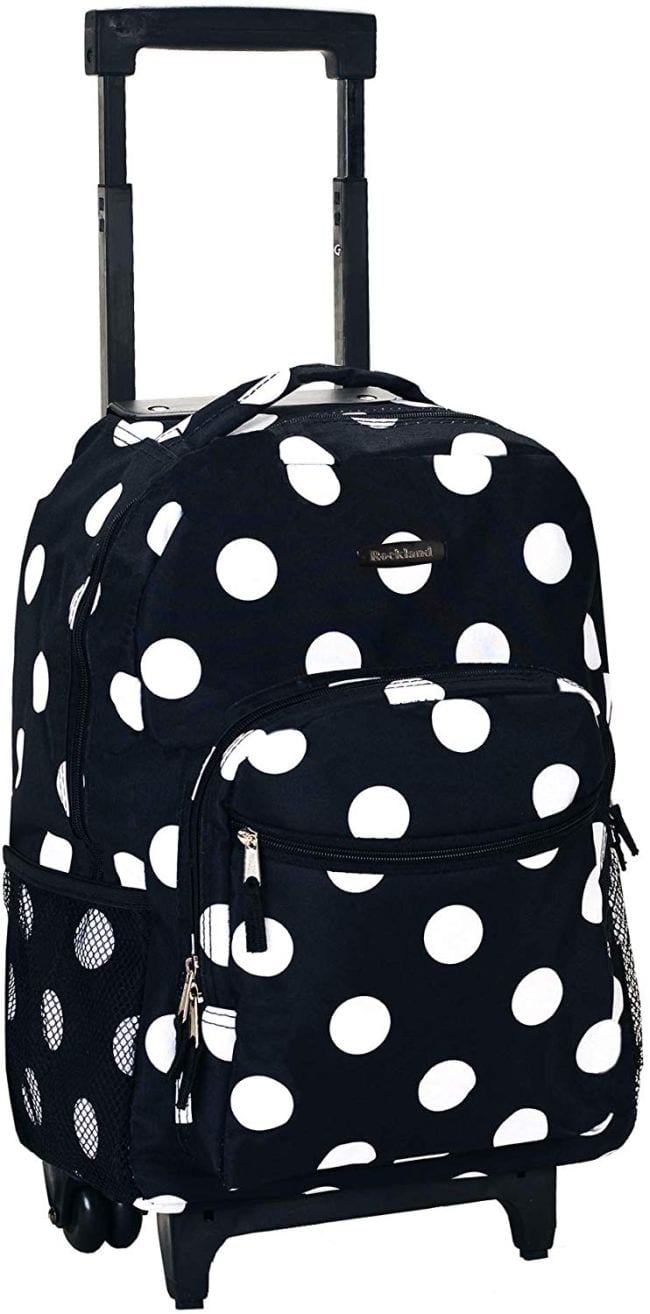 Comfort

You should make this your number one priority. No matter how much you carry around, whether it's heavy or not, there will come a time when you will need to load up your backpack. You do not want to have back pain at the end of the day, right? So, make sure to consider a backpack, you need to check the following components:
Construction – Teachers will feel more comfortable if the backpack is built in a way that supports their backsides. Shoulder straps, padding and shoulder straps are all important. After all, teachers will be carrying loads of books, lecture notes, and a laptop. You should therefore choose the best backpack.
Padded shoulder straps, back panels, and an optional hip belt help distribute the weight of the backpack throughout your body.
Check for adjustable and padded shoulder straps to ensure that it sits comfortably on you. Your bag should be contoured and padded to conform to your back. It will provide support for your spine and prevent back strains. Last but not least, the padded hip belts help to remove excess weight from your back and shoulders. This allows you carry heavy loads longer.
Your load/weight should be checked – Make sure your backpack is evenly distributed. Most recommendations on how to wear a backpack suggest wearing it high on your back, with the bottom of the bag at or just above the waist. Consider adding a belt to your waist, hips, or chest if you are carrying lots of weight. This will make a big difference in relieving stress from your back.
Choose a backpack to fit your height and body. If you are a woman, your backpack straps should fit narrower shoulders. The hip belt can mount to wider hips.
Backpack size and your height – The comfort of your backpack may also vary depending on the size and your own height. If you are unsure about which size backpack will work best for your needs, it is a good idea to see pictures of the bag as worn by models. The model will be able to help you determine your height and how much the bag will work for you.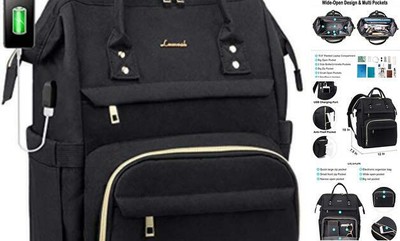 What's the Best Backpack to Take with You?

Here are our picks for the 6 Best Teacher Backpacks:
Jiefeike Large Capacity Laptop Backpack SwissDigital Water Resistant Backpack Matein Travel Backpack Kuprine Lightweight Business Backpack Coolbell Convertible Backpack-Messenger Bag – Briefcase Hap Tim Laptop Backpack
Hap Tim Laptop Backpack. You can click on the picture to view the Amazon prices.
The Hap Tim Laptop Backpack is at the top of our list for best teacher backpacks. We loved the unique doctor bag style closure on this backpack. With the unique doctor-bag style closure, you can see all of your items at once from up high. It also makes it very easy to find everything. A metal frame inside the backpack allows for it to keep its form and openness. It won't flop, or slump.
The backpack's clever design is not the only thing that makes it unique. It also offers plenty of storage space within its main compartment. This backpack will not overwhelm you with too many pockets. You can store your laptop in the bag securely with an adjustable protective sleeves. The smaller front pocket can be used to stash smaller items, while the mesh side pockets can hold your umbrella, water bottle or coffee cup.
This backpack is water-resistant and can take a fair amount of abuse without showing wear – no need to worry about getting stuck in the rain or the accidental spills. Our only complaint is that the bag can be a little too heavy thanks to its metal frame.
Overall we think this backpack is an innovative, simple, highly practical, and useful design.
Specifications for the Jiefeike Large-Capacity Laptop Backpack

Dimensions: 19×14.6×10.2in
Protects laptops as large as 17 inches
SwissDigital Water Resistant Bpack
SwissDigital Water Resistant Bag. Click on the photo to view the Amazon pricing.
SwissDigital Water Resistant backpack comes in next on our best teacher backpacks list. The backpack is not a top choice because it has a high price. But sometimes a little extra investment is worth it. The backpack is a step up in technology integration and anti theft measures. It features an RFID protected pocket which allows you to keep your license and credit cards safe and secure. Also included is a USB charging connector and cable. (Battery charge pack not included).
This bag offers an incredible amount of storage space with 15 independent pockets and compartments, including a dedicated padded laptop and electronics compartment. This bag also comes with a 180-degree, flat design which makes it easy for you to reach all of your electronics. This particular model also offers a special velvet-lined pocket exclusively for your sunglasses!
Description of the Kuprine Lightweight Backpack for Business:

Dimensions: 13x5x17 in
Laptop protection up to 15.6in
Coolbell Convertible Backpack-Messenger Bag – Briefcase
Coolbell Convertible Backpack-Messenger Bag – Briefcase. Click the photo to see the price on Amazon.
Our top pick for flexibility is the backpack that rounds out our best-selling teacher backpacks. You might need to be the professional you want to be. A briefcase is a better choice to carry to work or to a meeting. For your commute, a backpack may be easier to carry. This clever design lets you choose the way that your belongings are carried and the style of presentation. This bag can be easily converted to your liking with removable shoulder straps that can be removed and hidden back straps. It can also make a great teacher bag.
It is known for providing exceptional laptop protection. This is the bag for you if your computer is your most important tool. This backpack is the most protective for your computer of the choices on this list. It features an extra compartment that has anti-shock foam padding. There is ample storage space in the opposite compartment for your essential papers and textbooks.
.Best Teacher Backpack